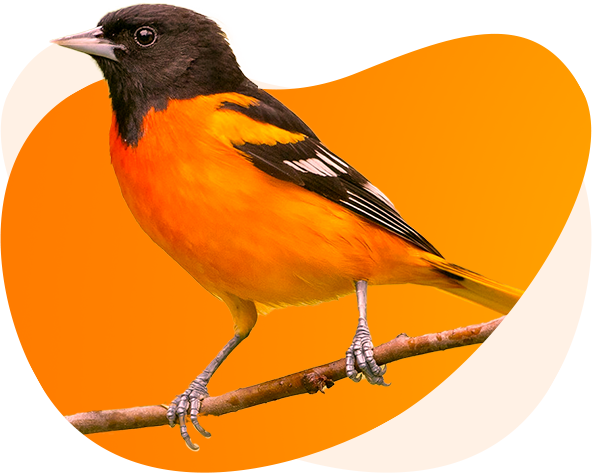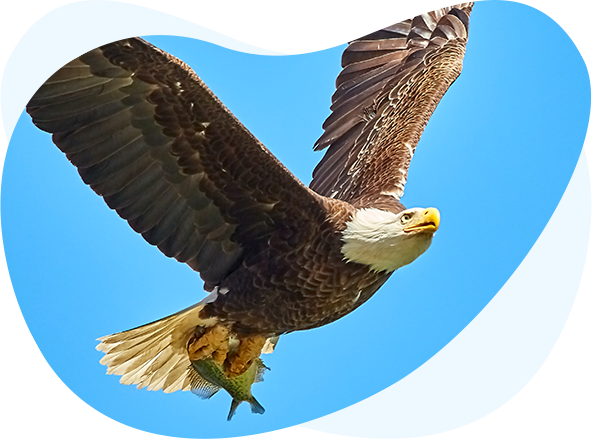 EASTERN LAKES AND WETLANDS TRAIL
About The Area
Burcham Park is a city park located along the west side of the Kansas River just north of downtown Lawrence. The Park gives excellent views of the Kansas River. It also has a half mile natural trail that goes through an area of mature cottonwoods. These woods are a tremendous migrant trap in spring and fall. At least 27 species of warblers have been seen in this relatively small park. In summer nesting birds will add color to your world with colorful species such as Yellow-billed Cuckoos, Ruby-throated Hummingbirds, Blue-gray Gnatcatchers, Eastern Bluebirds, Cedar Waxwings, American Goldfinches, Indigo Buntings, Summer Tanagers, and Prothonotary, Yellow-throated, and Northern Parula Warblers. Barred Owls, Red-shouldered Hawks, Bald Eagles and six species of woodpecker including Pileated are year-around residents. In fall and winter, these six species of woodpeckers are joined by a seventh – Yellow-bellied Sapsucker. In winter look for Common Mergansers, Hooded Mergansers, Common Goldeneyes and gulls on the river.
From the intersection of Massachusetts and 6th Street (US 59) at the north end of downtown Lawrence go west and then north on Indiana Street to the park entrance. Park entrance is at the intersection of Indiana and 2nd St.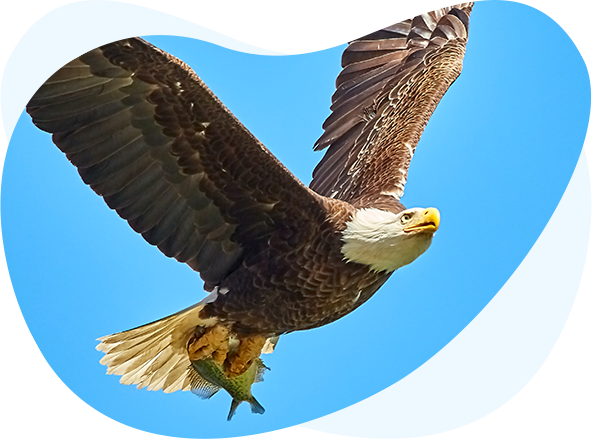 EASTERN LAKES AND WETLANDS TRAIL
About The Area
Start your visit at the Corps of Engineers Information Center near the north end of Clinton Lake dam. There you can learn about the lake and get maps to aide you as you bird around the lake. Two self-guided nature trails are located behind the Information Center. The Backwoods Trail is 5/8 of a mile in length, and is self-guided with a pamphlet, which is available at the Information Center. The half-mile long Discovery Trail is self-guided by use of signs placed along the trail. This area is part of the Overlook Park which is an excellent place to look for migrant songbirds and for scanning the lake for waterfowl, loons, Ospreys and Bald Eagles. In summer you can add color to your world in the Sanders Mound area where you can find nesting Blue Grosbeaks and Painted Buntings. The dam has a pull off where you can scan the lake as well as the face of the dam where Snowy Owls and other interesting birds have been found. The 1500-acre Clinton State Park located on the north shore just west of Overlook Park has numerous trails for birding on foot. A valid Kansas State Park Permit is required to access this area. But the most well-known birding spot in the State Park is the marina area where rare gulls and ducks tend to show up in fall and winter. On the south side of the lake, except during swimming season, Bloomington Beach often has interesting shorebirds, terns, and gulls. The Clinton Model Airplane Airport below the south end of the dam is a unique and surprisingly productive birding location, particularly in the fall. Walking through the fields and marshy areas can produce LeConte's and Nelson's Sparrows and Marsh and Sedge Wrens. Moreover, it is possible to flush a variety of rails, including the seldom seen Yellow Rail. In fact, this may be the best spot in Kansas to find this elusive rail.
Located on the west edge of Lawrence just off of K-10/US 40. Exit at Clinton Parkway and go west to into well-marked park entrance.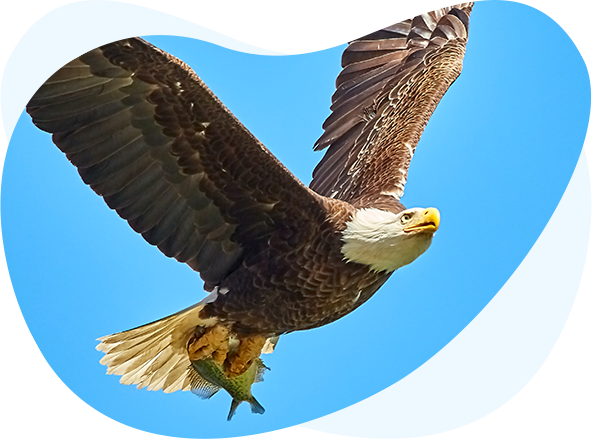 EASTERN LAKES AND WETLANDS TRAIL
About The Area
The Baker Wetlands encompasses 927 acres of wetlands, prairie, and riparian forest. At least 285 species of birds have been seen at this wetland treasure. You might want to start your visit at the Discovery Center where you can learn more about the wetlands and the birds that reside here. A boardwalk and 11 miles of trails allow birders to immerse themselves in the wetland ecosystem. The marsh area is home to rails. Herons, both Least and American Bitterns and Sedge and Marsh Wrens. Although lacking the extensive mudflats, shorebirds can still be plentiful around the margins of the pools, dikes and open areas. Sparrows are often the stars of a walk through the wetland. In fall Le Conte's, Nelson's, and Swamps Sparrows are possible. In fact, as many as 15 species of sparrows may be seen in a day during spring and fall. The riparian woodlands along the Wakarusa River on the south edge of the property can be productive for warblers, vireos and other songbirds.

From the intersection of US 59 and K-10 on the south side of Lawrence, go south then take first left onto 1250 Road. Drive east to the Discovery Center.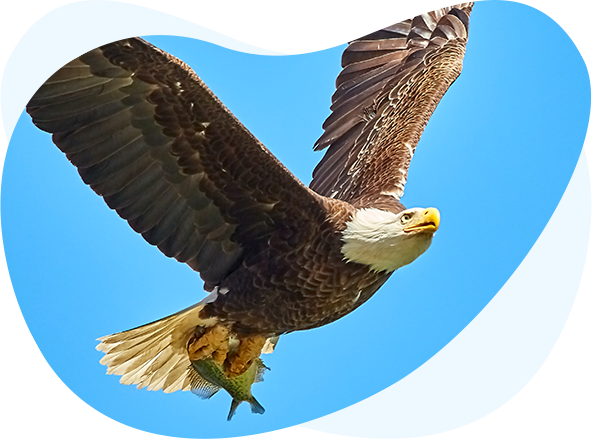 EASTERN LAKES AND WETLANDS TRAIL
About The Area
This 4,000-acre lake has 52 miles of shoreline. Fortunately, there are many parks and access points for birders to scan for waterfowl and shorebirds. The State Park on the south shore is a great place to start your visit. Birders will find good views of the lake from the park's several campgrounds. During migration and winter you can expect to see all of the common waterfowl that occur in Kansas. Birders who make the extra effort to thoroughly search the rafts of ducks have been rewarded with Long-tailed Ducks, Barrow's Goldeneye and all three species of scoter. The list of rare gulls seen here includes Black-legged Kittiwake, and Little, Laughing, and Black-headed Gulls The half mile long Rising Sun Trail in the Ah-Ke-Ta Picnic Area is a nice place to look for songbirds. During winter, check the feeders at the Park Office. Birds such as Purple Finches, Pine Siskins, a good variety of sparrows, and all of the normal winter woodland residents can be found here. A valid Kansas State Park Permit is required to access this area. The Corps of Engineers manages eight parks around the lake. The best ones for birding are the Outlet Park below the dam and the Michigan Valley Recreation Area. All of the Corps' parks offer trails which birders can walk to find the warblers, vireos, flycatchers and thrushes that inhabit the woodlands around the reservoir. Witches' Broom Trail (0.74 miles long) in the 110 Mile Recreation Area and the Deer Creek Nature Trail (0.38 miles long) located below the dam are two good choices for birding on foot.

To reach the state park office from the intersection of US 75 and K-268 (24 miles south of Topeka, 2 miles north of Lyndon) go east 6 miles and then 1 mile north on K-368. The Corps of Engineers Visitor Center is 2 miles east of the state park office on the northeast side of the dam.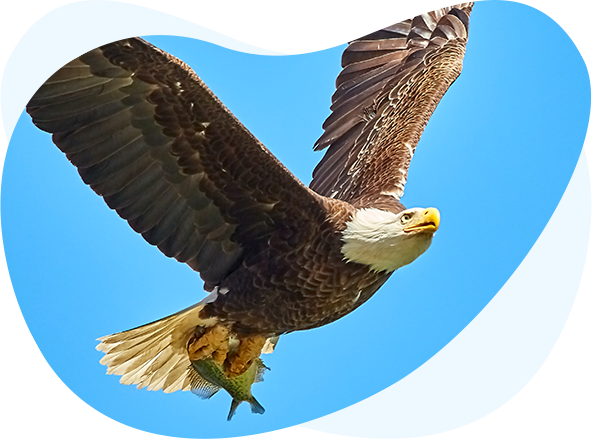 EASTERN LAKES AND WETLANDS TRAIL
About The Area
Melvern Reservoir is a Corps of Engineers Reservoir which has produced many records of rare gulls, loons and ducks. The 7,000-acre lake is surrounded by 18,000 acres of public lands available for outdoor recreation. Generally, the waterfowl and woodland birds found here are like those found at the other big lakes on this Trail. But unlike those lakes Melvern is situated on the eastern edge of the Flint Hills so the land around it has more of a prairie feel to it. The birds found around the lake reflect that Flint Hills flavor with Grasshopper Sparrows, Common Nighthawks, Scissor-tailed Flycatchers and even an occasional Greater Prairie Chicken. Eisenhower State Park on the north shore of Melvern Reservoir has 440 acres of woodlands and over 1000 acres of tallgrass prairie. Besides providing viewpoints for scanning the lake, a half-mile long self-guided nature trail allows birders to stroll through the tallgrass prairie in search of grassland birds. A valid Kansas State Park permit is required to access this area. The Corps of Engineers manages five parks around the lake. The Outlet Park is the most convenient place to bird. It has a large pond and three miles of nature trails, including a half mile trail that is fully accessible. The Marais des Cygnes River Nature Trail (1.5 miles long) winds along an old oxbow of the river. In the northeast part of River Outlet Park, you'll find the River Bottom Nature Trail which is 0.75miles in length. This unpaved trail goes through woodlands and along the shoreline of the pond. In winter Northern Shrikes, Rough-legged Hawks, and even Snowy Owls have been seen here. If you want to spend more time birding Melvern Reservoir you could try Coeur d' Alene Park, along the lake's south shore. Here you will not only get different views of the main lake and two coves, but you also can birdwatch on two nature trails with gravel surfaces. The Overlook Trail is only 200 yards long, but it links two picnic areas which also may have interesting birds. The Breakwater Trail is a 0.6-mile-long trail that goes through a pleasant natural area and provides access to Marina Cove.
To get to Eisenhower State Park, take U.S 75 Highway south from Lyndon approximately five miles to K-278 Highway and go west on that highway for approximately three miles. The US Army Corps of Engineers visitors center is located just west of the US 75 and W HWY 31 intersection just southeast of the dam. Other areas on the lake can be accessed from several roads from US 75 as you travel to the southwest.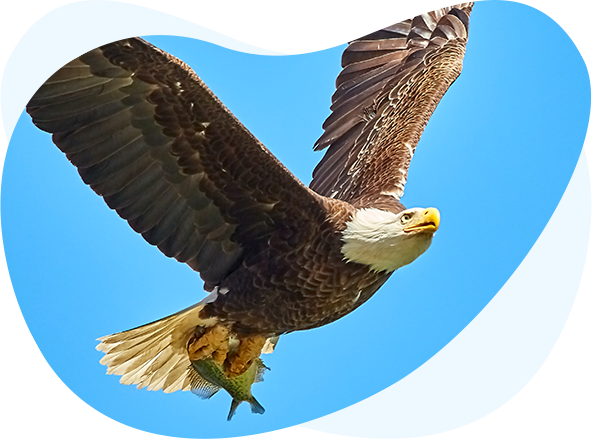 EASTERN LAKES AND WETLANDS TRAIL
About The Area
This 416-acre lake is the best location in the immediate Topeka area to find loons, grebes, ducks and geese. Roads provide access to both the east and west sides of the lake from which you can scan for waterfowl. Rare waterfowl such as Trumpeter and Tundra Swans, Long-tailed Duck, Barrow's Goldeneye and all three species of scoters have been seen here. The park area surrounding the lake can be good for migrating songbirds. Check the large, scattered oaks and other shade trees found throughout the park for warblers, vireos, and flycatchers. A particularly productive spot for birding, especially in May migration, is Gazebo Point. To reach this area, drive north from 45th St. up the west side of the lake. Stop near the first large shelter house and walk north for about 200 yards. You will see the gazebo. This entire area around the gazebo can be excellent during spring and fall.
This lake is located in southeast Topeka just west of Croco Rd between 29th St. on the north and 45th St. on the south. The Park Office address is 3137 SE 29th St.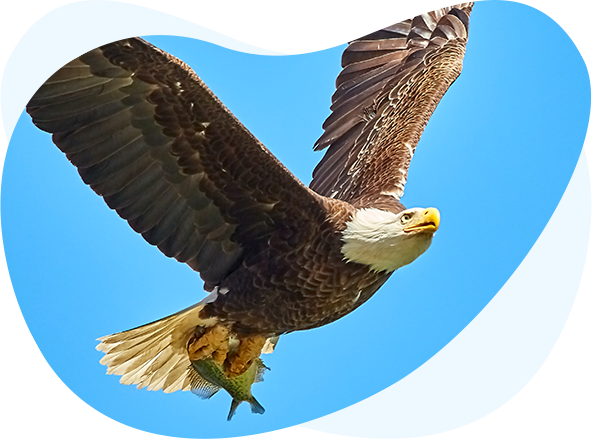 EASTERN LAKES AND WETLANDS TRAIL
About The Area
Unlike the other large lakes on this birding trail, Perry Lake is in the region of Kansas that was shaped by glaciers. This landscape around the 11,000-acre lake is characterized by rolling bluestem prairie, hillsides of oak and hickory, old fields and meadows, and riparian woodlands. The oak-hickory ridges attract buntings, vireos, tanagers, thrushes, and warblers. Both Chuck-wills-widows and Whip-poor-wills may be heard calling on summer evenings. Gulls, pelicans, ducks, and flocks of snow geese are common on the lake during the fall migration. Like the other lakes on this Trail, many rare loons, ducks and gulls have been seen at Perry Lake. Pacific and Red-throated Loons, all three species of scoters, and rare gulls such as Short-billed (Mew), Black-legged Kittiwake, Black-headed Gull, and both Lesser and Greater Black-backed Gulls have been found here. Key birding areas around the lake include the Lake Perry Yacht and Marina just north of the dam on the east shore and the Perry State Park and nearby Rock Creek Marina on the west side of the lake. Rare gulls and waterfowl seem to hang around these two marinas. The nearly 1,600-acre Perry State Park offers a variety of habitats for excellent birding. Perry Lake's extensive trail systems is a magnet for hikers as well as birders. Its most well-known trail is a 29-mile hiking trail with National Recreational Trail designation. However, many shorter nature trails are perfect for birders. The State Park has a 1.5-mile nature trail and Sough Creek Park has the 2.5-mile Thunder Ridge Trail which leads through a variety of habitats. These trails are excellent for migrating and nesting warblers, vireos, flycatchers and thrushes. A valid Kansas State Park Permit is required to access any state park areas. Below the dam, the Delaware Marsh Trail offers hikers a scenic hike through a wetland. The 1.75-mile self-guided hiking trail begins to the west of the parking area. Besides trails, Perry Lake is also known for its extensive wetlands. In addition to Delaware Marsh below the dam, 13 other marsh complexes totaling more than 1000 acres have been created at the north end of the lake. Of these wetlands the three most popular wetlands for birding are the Ferguson Marshes and Kyle Marsh both of which are north of K-92 and east of K-4; and Lassiter Marsh north of K-16 west of Valley Falls. Many species of shorebirds and waterfowl can be found in these wetlands during migration. The two most notable bird records from these wetlands were of Kansas's only Spotted Redshank at Lower Ferguson Marsh and a Garganey at Lassiter Marsh. Kansas Department of Wildlife and Parks manages these wetlands. You might want to stop in the State Park office to check on the water levels, road conditions, and to confirm specific up-to-date directions to access these marshes.
From Lawrence, take US Highway 24 west to Perry. Turn left on Ferguson Road north of Perry for about 2 miles. Turn left at 39th Street (Spillway Road) and travel about 1 mile, then turn right on Perry Park Drive. The brick building on the right is the U.S. Army Corps of Engineers information center. From Topeka take US 24 east about 17 miles to Perry and then follow the above instructions.