The Kansas Birding Trail is designed to link you to the best birding spots for opportunities to see some of the 350 plus bird species that regularly occur in the state. Each trail is made up of convenient, thematic, and flexible routes.
Most trails are designed as a loop to return you to near your starting point. Spur roads, like spokes of a wheel, sometimes lead from the loop to other optional but noteworthy sites. In a few cases where a loop was not practical because of the distances between sites, the trail is linear, running in either a north-south or east-west direction.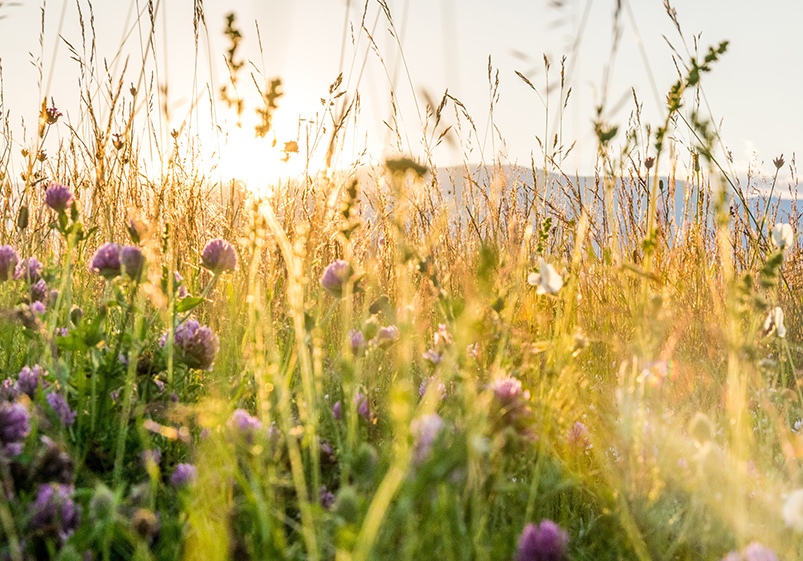 * However, upon entering some of the locations you may find yourself driving on gravel or dirt roads.  These roads are maintained by the managing agency and generally are in good shape. However, always use discretion as road conditions may change with recent weather events.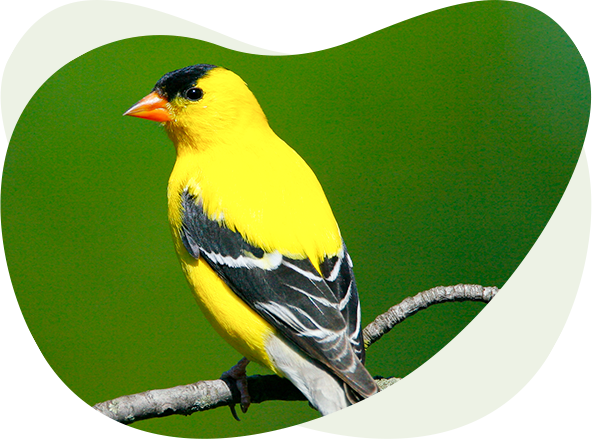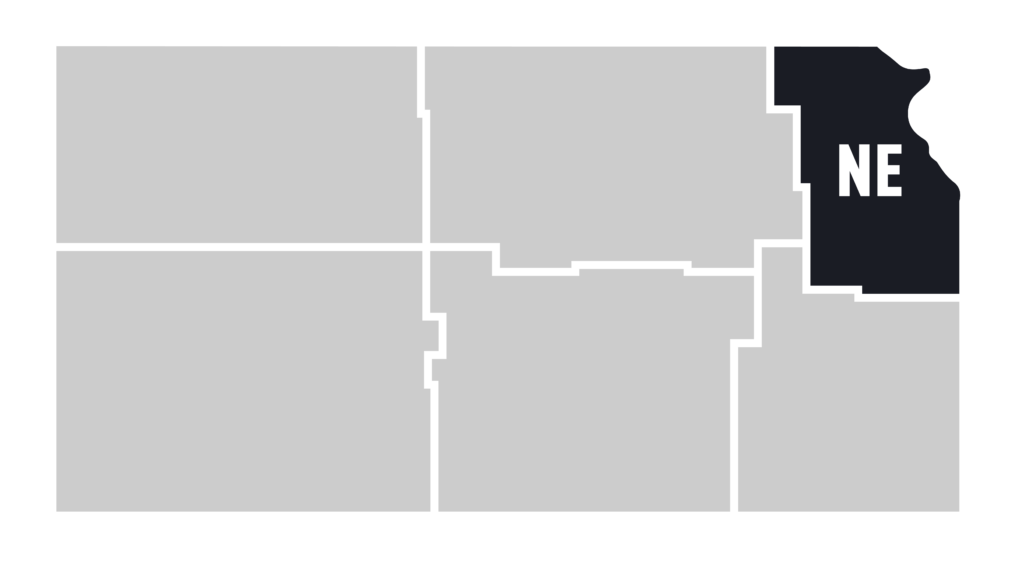 KC PARKLANDS TRAIL
KC Metro Area
In 1804 Lewis and Clark camped at the confluence of the Kansas and Missouri Rivers. During their three-day stay in what is now Kansas City, Kansas, they noted flocks of "Parrot queets," the now-extinct Carolina parakeet– a brilliant green, yellow, and orange bird that moved about in fast-flying flocks up and down the river bottoms. They also saw their first American Bison as well as bear, elk, and deer here in northeast Kansas. They wrote in their journals that this place was "by no means bad." On the KC Parklands Trail you will still find colorful birds and abundant wildlife. This trail will take you to city, county, and state parks that include mature forests, wetland marshes, lush prairies, and expansive lakes. This variety of habitats will produce an array of birdwatching possibilities throughout the year, but the migration seasons of April-May and September-October are best.  Moreover, all of these sites are within or conveniently close to the Kansas City metro area. You will be sure to find that a day birding on the KC Parklands Trail will be as Lewis and Clark said, "by no means bad." This is one of the best regions of Kansas to find migrating warblers, vireos and other songbirds in spring and fall. This area has breeding species that do not occur much further to the west in the state, such as Henslow's Sparrow, Yellow-throated, Kentucky and Prothonotary Warblers and other interesting species. This region has one of the highest human populations in the state, so there are plenty of other things to see and do for a non-birding spouse or friend, as well as great places to eat and recreate.
Stops On The KC Parklands Birding Trail
Be still and quiet. Avoid sudden movements and loud noises that could startle birds. Get close to birds by moving slowly and deliberately. The closer you are, the quieter and slower you should move.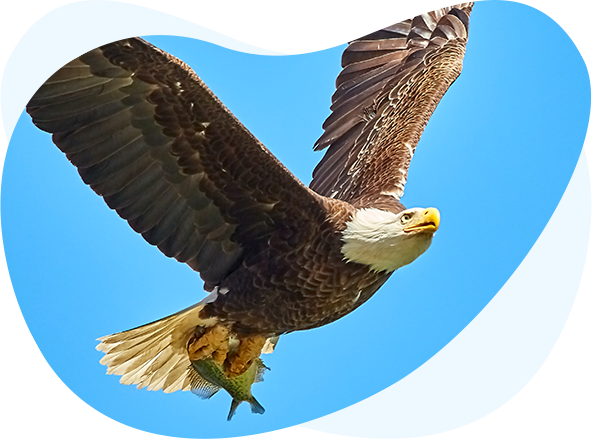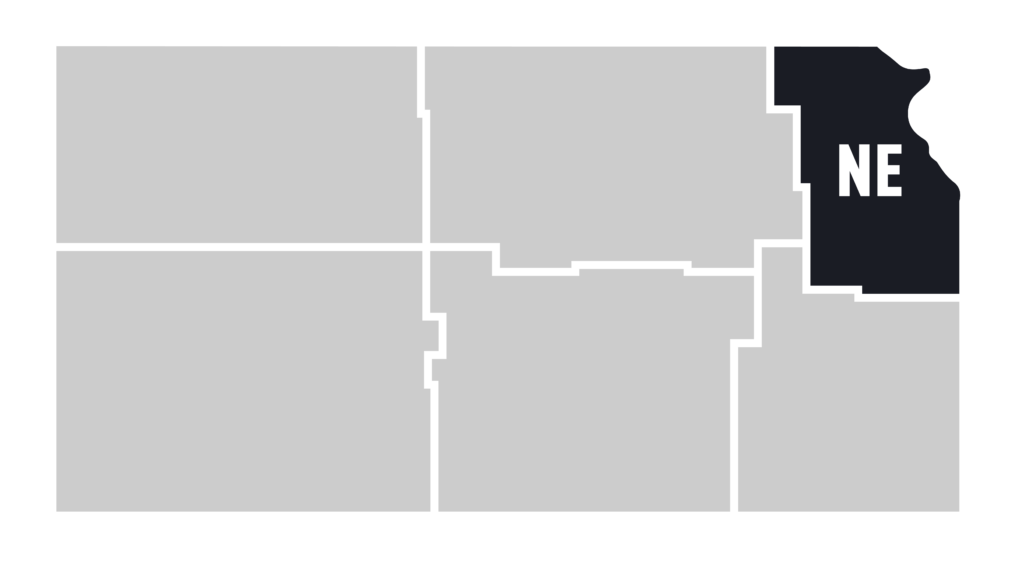 EASTERN LAKES AND WETLANDS TRAIL
northeast kansas
The U.S. Army Corps of Engineers constructed and administers 19 large flood control reservoirs in the eastern half of the state, with most of them having associated Kansas State Parks on them. These reservoirs, along with numerous Kansas Department of Wildlife and Parks State Fishing Lakes and city-owned lakes, provide tremendous habitat for ducks, geese, gulls, and wading birds. In fall and winter, these lakes can host enormous flocks of waterfowl and gulls. October through March are the best time to view these water birds with spectacular numbers of tens of thousands Franklin Gulls present in October and April. Bald Eagles are commonly seen soaring over these sites on this trail throughout the year, but they are most abundant near open water in winter. The Eastern Lakes and Wetlands Trail will take you to several of these beautiful lakes, along with stops at wetlands teeming with life, and a stop to see woodland and water birds along the Kansas River. The cities of Topeka and Lawrence are included on the trail, providing ample opportunities for food, fuel, places to stay and various other fun activities.
Stops On The Eastern Lakes And Wetlands Birding Trail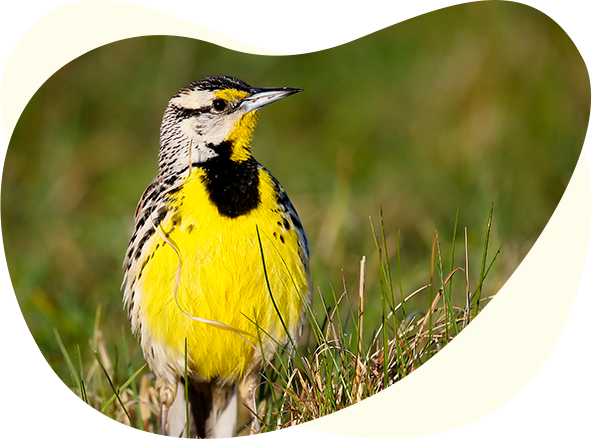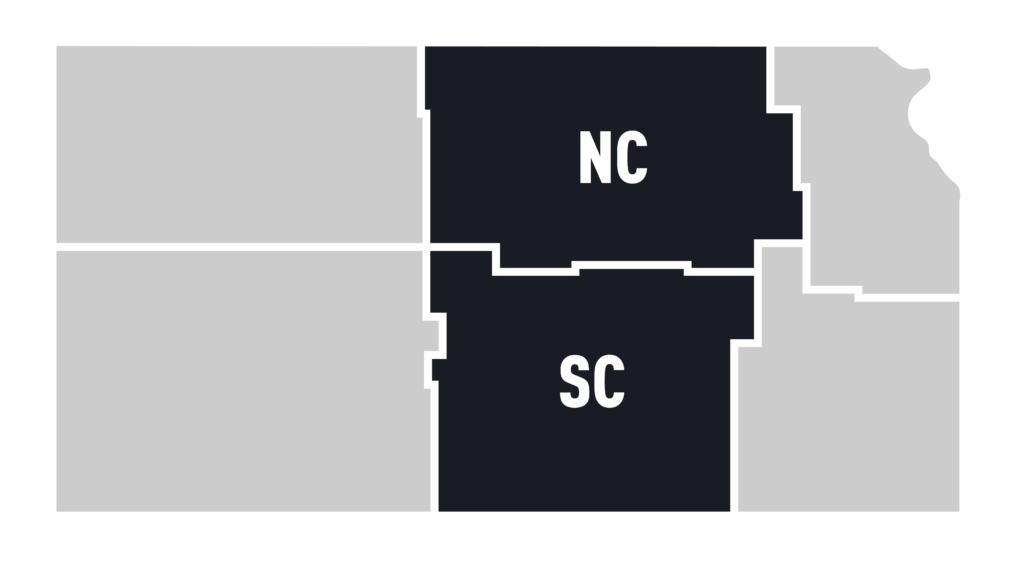 FLINT HILLS TRAIL
manhattan area
The Flint Hills Birding Trail winds through one of the most picturesque landscapes of Kansas and indeed one of the most pleasant landscapes in the United States. The Flint Hills are the world's largest remaining area of tall grass prairie, stretching across Kansas from the Nebraska border to Oklahoma. They are characterized by flat tops and prominent valleys that in some places are 300 feet deep. It might be more accurate to call these the Flint Valleys because erosion has cut deeply, creating "hills" from the flat terrain. The flint referenced in the name comes from the chert, or flint rock, that lies beneath the slopes. On the Flint Hills Birding Trail, much of the birding will be along the roadsides as you sail across a rolling sea of grass. During summer look for grassland birds such as Upland Sandpipers, Scissor-tailed Flycatchers, Grasshopper Sparrows, Eastern Meadowlarks and Dickcissels on fences and wires. During winter, raptors such as Northern Harriers, Rough-legged Hawks and several varieties of Red-tail Hawk are common roadside birds. During migration you can see waterfowl and eagles on the reservoirs which have been constructed by damming the Flint Hill's rivers and streams. Only the luckiest travelers will see Greater Prairie Chickens from the road. However, during the spring "booming season" the Flint Hills Discovery Center in Manhattan and the Tallgrass Prairie Preserve near Cottonwood Falls offer opportunities to see prairie chickens dancing on their leks. It's a unique and memorable experience that should not be missed! 
Stops On The Flint Hills Birding Trail
Early mornings and evenings are usually the best times to maximize your birding experience as that is when a good number of birds are most active.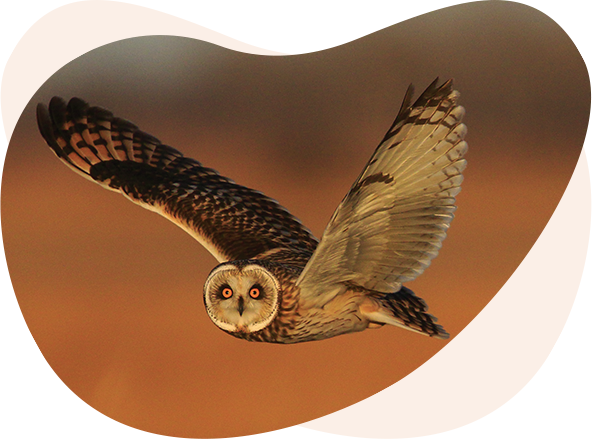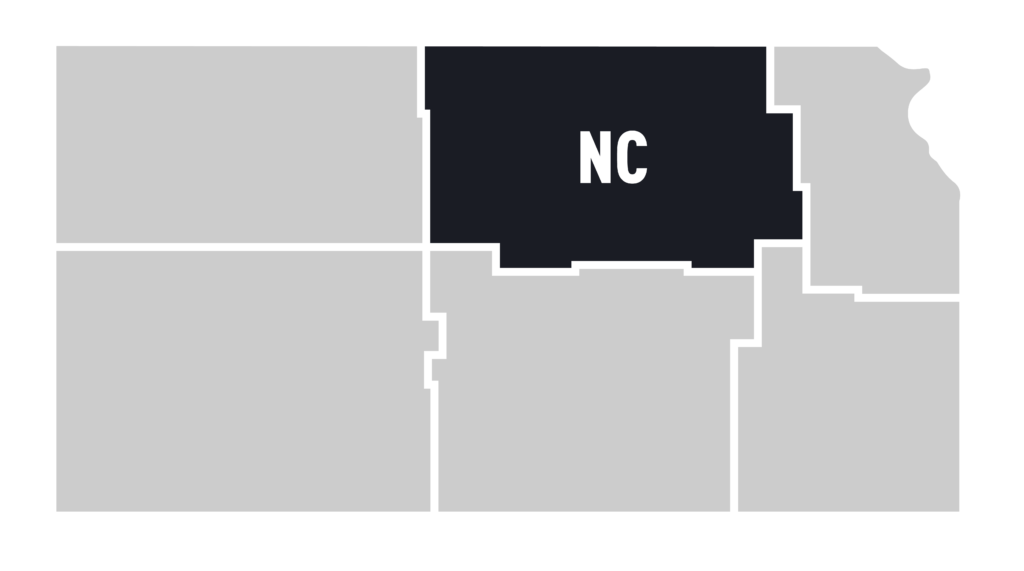 SMOKY HILLS TRAIL
central kansas
Much like the Great Smoky Mountains of Appalachia, the Smoky Hills of Kansas, are so named because in the summer the hills are obscured by a smoky-looking heat haze when viewed from a distance. Considerable ruggedness is evident in this scenic region. You will notice interesting and colorful rock formations exposed on eroded slopes. As with the Flint Hills, due to limited rainfall, trees are confined to the edges of streams and ponds –mostly cottonwoods and willows, with green ash and hackberry also present. Streamside bottomlands, with their deep, fertile soils, are mostly cultivated. The uplands, with poorer, shallower soils, are in blanketed with prairie grasses. Whereas the Flint Hills Trail features Tallgrass Prairie and the Cimarron Trail highlights Shortgrass Prairie, here in central Kansas the grasslands are Mixed-grass Prairie. As the name implies, short grasses such as buffalo and grama grass are interspersed with taller grasses such as bluestems making this region especially rich botanically. At any specific location depending on soils, grazing, fire, and rainfall the composition of the Mixed Grass prairie can favor the tall-grass species of the east or the short-grass species of the west.
This trail will lead you to spectacular lakes nestled into the Smoky Hills. Many people consider Wilson Lake to be the most beautiful lake in Kansas.  Like many lakes in Kansas, the best time to visit is during spring and fall migration. In addition to ducks and geese, you often see flocks of Sandhill Cranes flying overhead in February and March, then again in late October and November. With some luck, you might be able to pick out a Whooping Crane! Winter can be an exciting time to visit as waterfowl and Bald Eagles concentrate into the smaller areas of open water.  Also, in winter, watch the roadside fences and poles for a good variety of raptors, including Short-eared Owls, Northern Harriers, Rough-legged Hawks and possibly a Golden Eagle.
Another feature of this landscape are the Post Rock fence posts.  Wood was so scarce when this land was settled that folks quarried these posts from a layer of limestone just below the surface. During summer these picturesque posts make fine perches for Common Nighthawks, meadowlarks, Northern Mockingbirds, and even Northern Bobwhite. Watch for these species, along with Ring-necked Pheasants, Grasshopper and Lark Sparrows, Dickcissels, and both Eastern and Western Kingbirds as you drive through the rolling Smoky Hills landscape. Summer is also the peak wildflower season. On the Smoky Hills Trail you will not only "color your world" with birds but with a kaleidoscope of vibrant wildflowers.
Stops On The Smoky Hills Birding Trail
Minimize talking and loud noise when birding, as that often disturbs birds and makes viewing more difficult. Some locations such as marshes can be best birded from a vehicle as walking tends to push birds further away and more difficult to see.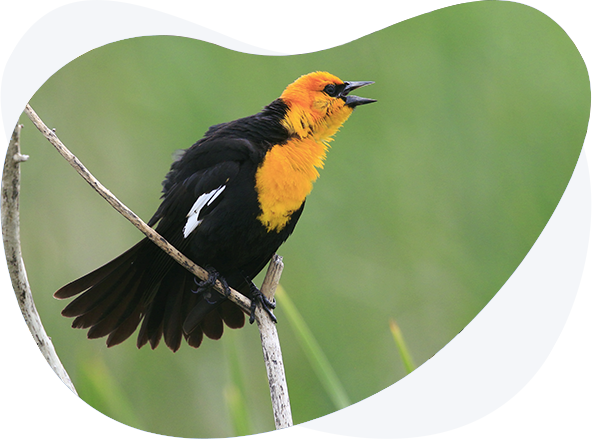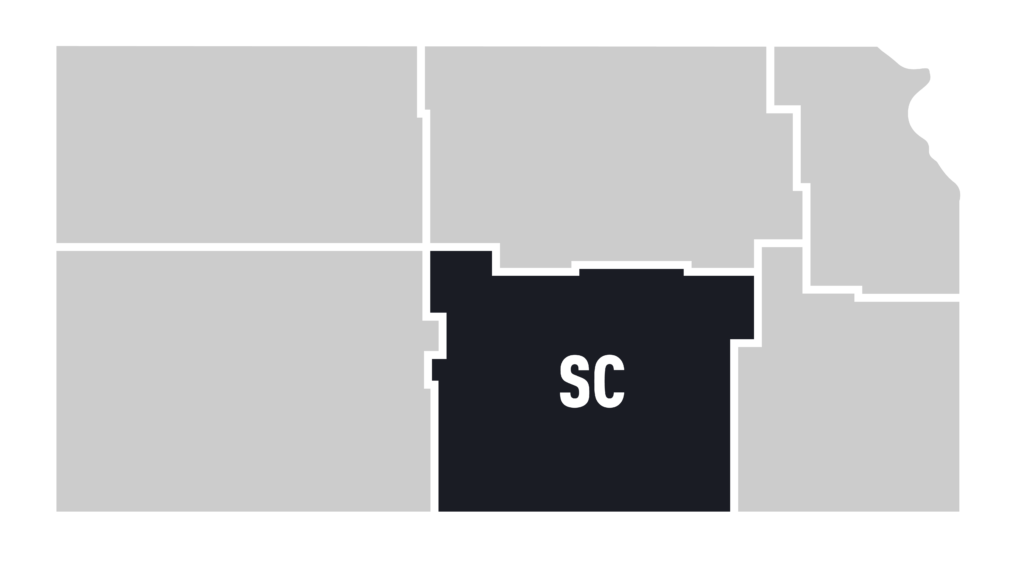 WETLAND WONDERS TRAIL
central kansas
Kansas is home to two of North America's most important wetlands; Cheyenne Bottoms and Quivira National Wildlife Refuge. The Wetland Wonders Birding Trail will guide you to, and through, these world-class birding destinations. These sites are located in the heart of the Central Flyway – a superhighway for birds migrating from Alaska and Canada to Central and South America. Like along all long-distance highways, rest stops are a necessity. Each spring and fall the Cheyenne Bottoms Wildlife Area, the Nature Conservancy's Cheyenne Bottoms Preserve and Quivira NWR serve as crucial rest and refueling stops for thousands of migrating birds. April and May in the spring and August and September in the fall are the peak times to see large numbers and a tremendous diversity of shorebirds. Waterfowl numbers are highest (sometimes hundreds of thousands of birds) in October through December and March through May. During late summer you can find large numbers of herons and egrets, along with the return of migrating shorebirds. These sites along this trail are also important rest stops for the endangered Whooping Crane, with most of the continent's flock stopping or at least migrating over these wetlands.
Both Quivira NWR and Cheyenne Bottoms have been designated as Wetlands of International Importance by the Ramsar Convention on Wetlands. This treaty provides the framework for international cooperation for wetland conservation. These marsh complexes are two of only 41 Ramsar sites in the United States. Biologically speaking, wetlands are the most productive ecosystems in the world in terms of the amount of plant and animal matter and energy produced. They're even more productive than intensively farmed cropland. Wetlands make up only about 5 percent of the lands in the United States, yet over 30 percent of all plants in the United States are wetland plants. This illustrates the tremendous diversity found in the wetland habitats you will visit on this trail. These are wonder-filled wetlands to visit, as birdwatchers from around the world will attest. 
Stops On The Wetland Wonders Birding Trail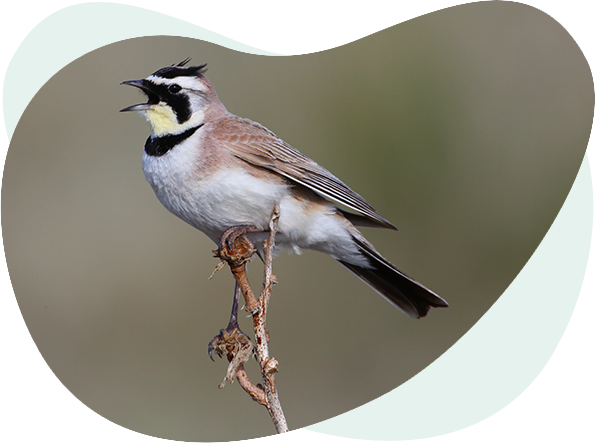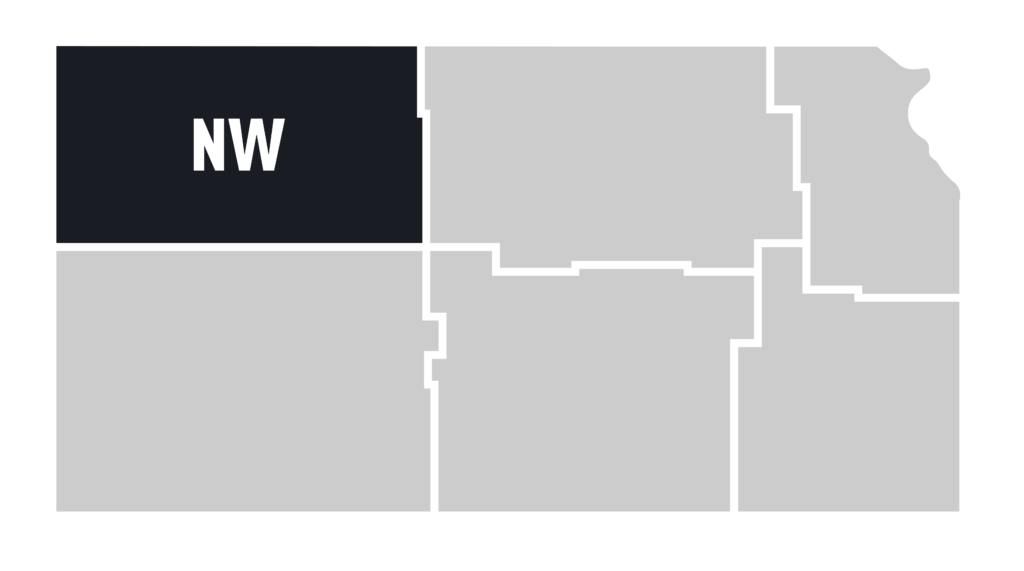 HIGH PLAINS LAKES TRAIL
northwest kansas
"Water is life." So says a proverb from the nomadic Tuaregs of the dry West African Sahel. This proverb applies in dry western Kansas too. This High Plains region of Kansas receives only about 20 inches of precipitation annually. With this limited rainfall the native vegetation consists of shortgrass prairies, cacti and yucca. Windmills rather than trees, dot the landscape, many still pumping water to the surface for thirsty livestock. They are a reminder that at one time windmills allowed this land to be settled by bringing water up to the surface for farm families. Today large diesel, natural gas or electric powered pumps bring water to farm, communities and center-pivot irrigation rigs which act like giant lawn sprinklers to grow corn and other crops.
Whereas the large reservoirs of eastern Kansas were built for flood control and navigation by the U.S. Army Corps of Engineers, here the U.S. Bureau of Reclamation built reservoirs to provide a water supply for towns and irrigation of crops. These High Plains Lakes provide critical and otherwise scarce habitat for waterfowl, wading birds and shorebirds. Like the lakes in eastern Kansas, spring and fall are the best seasons to visit as they host large numbers of ducks, geese, and gulls. During some winters large numbers of waterfowl spend the winter under the watchful eyes of wintering Bald Eagles. The High Plains Lakes Birding Trail will lead you to precious life-giving waters that provide rest and refreshment for both people and birds. The Trail also includes birding stops in Hays, a city that was built on the banks of Big Creek because "water is life" for people too.
Stops On The High Plains Lakes Birding Trail
Find a mentor or more experienced birder to go with as they can be extremely valuable in passing on knowledge and it's a fun way to get engaged in the birding community.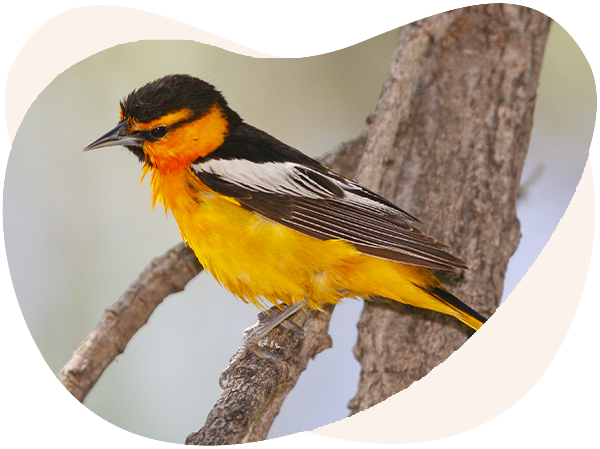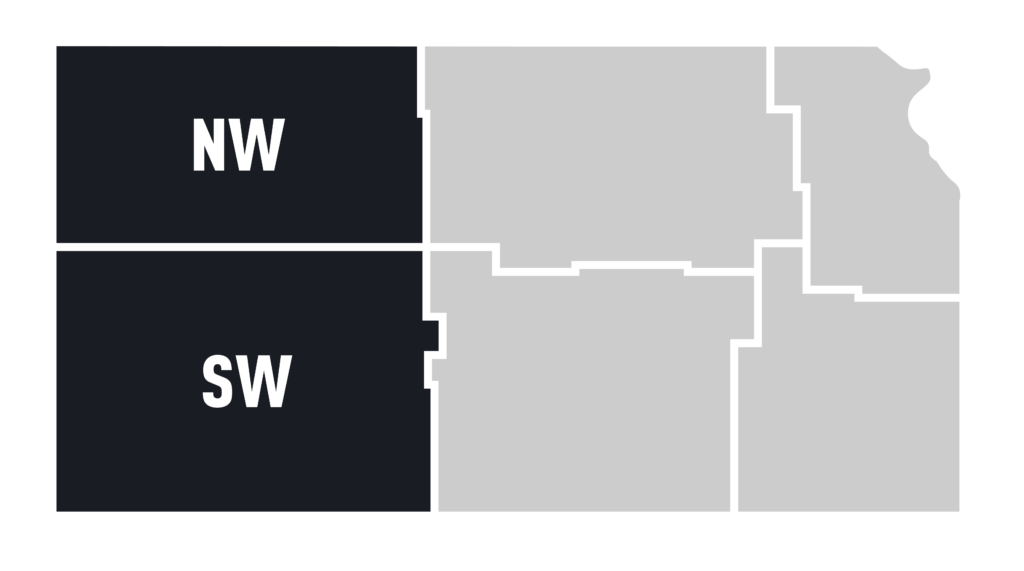 HABITAT ISLANDS TRAIL
western kansas
Kansas, "The Wheat State," is famous for being the breadbasket of the world.  As you drive the Habitat Islands Trail you'll pass mile after mile of wheat fields where grain is grown that will feed people all over the globe. You'll also pass large circle-shaped corn and milo fields grown under center-pivot irrigation rigs.  Much of this grain is destined to be fed to beef cattle or turned into other products for human consumption.  To a person with a birds-eye view of the landscape these fields and circles look like a large geometry worksheet with squares, rectangles, circles and semi-circles.  In some areas the density of irrigation circles looks like a lily pond from above. Although these croplands are immensely beneficial for humans, they (with a few exceptions) are not beneficial for birds. However, within this ocean of grain, islands of excellent bird habitat can be found. These islands include small towns with their well-watered lawns and parks, patches of sand-sage prairie, spectacular rock formations, and even a beautiful lake that has hosted some of the rarest birds ever seen in Kansas.  Birding these habitat islands is particularly rewarding during spring and fall migration. Migrants such as warblers, vireos, flycatchers and hummingbirds become concentrated in these isolated islands of habitat as they rest on their long journeys. During winter the vast sea of agricultural land between these islands are home to enormous flocks of Lapland Longspurs and Horned Larks sometimes numbering in the hundreds of thousands. Seeing clouds of longspurs rising form the fields is spectacle not often witnessed in other parts of North America. Prairie Falcons, Golden Eagles, Ferruginous and Rough-legged Hawks and other raptors can also be especially common and conspicuous.  Although it is not tropical, you will have an island adventure traveling on the Habitat Islands Trail.
Stops On The Habitat Islands Birding Trail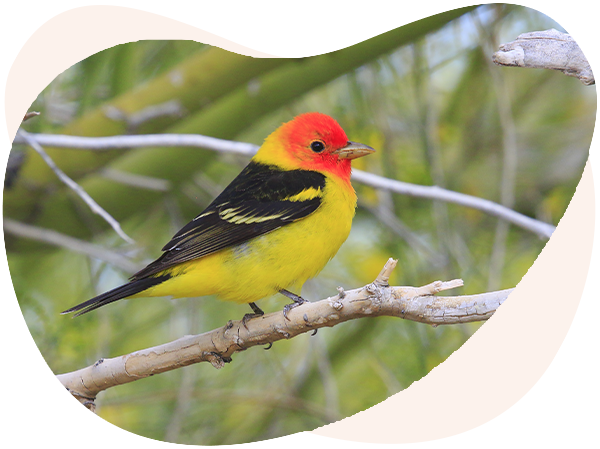 CIMARRON TRAIL
southwest kansas
The Cimarron Birding Trail offers the opportunity to see birds found in the western United States. This is particularly true during migration. Hummingbirds, flycatchers, and warblers normally found in the Rocky Mountains cut across this corner of Kansas on their way to and from their wintering grounds. During August, western hummingbirds such as Rufous, Broad-tailed and Calliope may show up in towns. Flycatchers such as Cassin's Kingbirds, Western Wood-Pewee and an assortment of hard-to-identify western Empidonax flycatchers soon follow. In September and late April to early May, western warblers such as MacGillivray's, Townsend's, and "Audubon's" mingle with eastern species such as American Redstarts, Northern Parulas and "Myrtle" warblers. During the breeding season, western species such as Scaled Quail, Curve-billed Thrasher, Say's Phoebe, and Bullock's Orioles can be found along this route.
The habitats on the Cimarron Birding Trail include shortgrass and sand-sage prairies along with large areas of agricultural fields, scattered city parks and yes, even sewage lagoons!  In areas such as this where water is scarce, the nutrient-rich waters of sewage lagoons attract many species of shorebirds and waterfowl.
For much of this trail you will be birding along the path taken by merchants and settlers traveling on the Santa Fe Trail. Speeding along in your air-conditioned vehicle, it will be much less arduous than their journey.  However, like those travelers, birders on the Cimarron Birding Trail will experience a sense of anticipation and adventure. Along the Cimarron Birding Trail, you'll never know what birds – from the east or west — you'll discover at your next stop!
Stops On The Cimarron Birding Trail
Keep the sun behind you to make it easy to see and identify birds. If the sun is on the other side of the bird, you may only see its silhouette.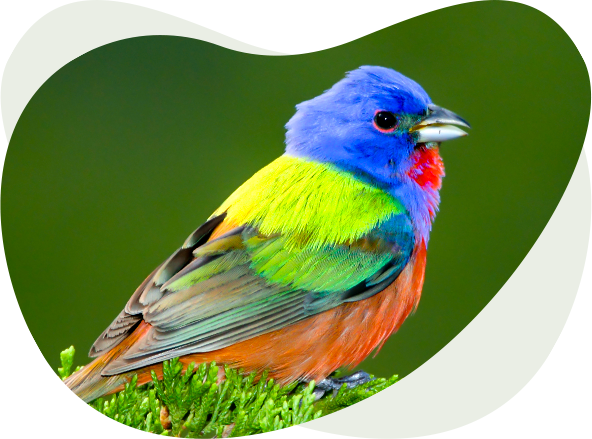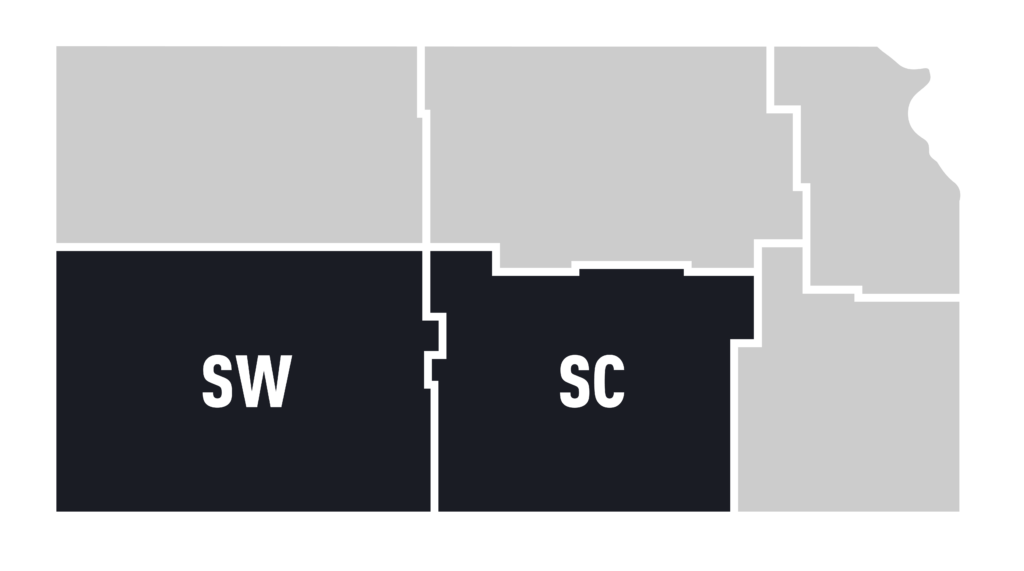 RED HILLS TRAIL
south central kansas
You can truly "color your world" by birding along the Red Hills Trail in southwestern Kansas.  As the name indicates, the land here itself is colorful as the soils and sandstones are a rusty-red color from iron oxide. The birds found in this ruddy-colored landscape also are among the most colorful in Kansas. In fact, Painted Buntings, the most colorful songbirds in Kansas, are somewhat common along this Trail in summer. Flocks of sky-blue Mountain Bluebirds add color to the winter landscape.
The Red Hills trail has a distinctly western feel to it. Expansive mixed-grass rangelands are interrupted by patches of redcedars and rocky outcrops.  Birds found along the trail such as elusive Greater Roadrunners, soaring Swainson's Hawks, and singing Cassin's and Lark Sparrows add to the feeling of being out west.
The Red Hills are sometimes called the Gypsum Hills or Gyp Hills for short because of the large natural deposits of gypsum in this area. This natural resource is the same material used in the manufacturing of sheetrock used for building purposes Gypsum in the Red Hills is soluble in water and as a result, numerous caves and sink hole have formed here. The Red Hills Trail will lead you to two such sink holes; one of which is 1.5 miles across and aptly called Big Basin and another smaller sink hole with a spring called St. Jacob's Well. A great time to visit the Red Hills trail is during winter.  Not only will you see many wintering raptors, but most winters patches of Eastern redcedars have abundant berries which attract flocks of Mountain Bluebirds, as well as American Robins, Cedar Waxwings and even a few Townsend's Solitaires. The lakes along this trail host wintering ducks and geese, thereby adding even more color to the Red Hills Trail winter experience. Summer or winter you are bound to add color to your world on the Red Hills Trail!
Stops On The Red Hills Birding Trail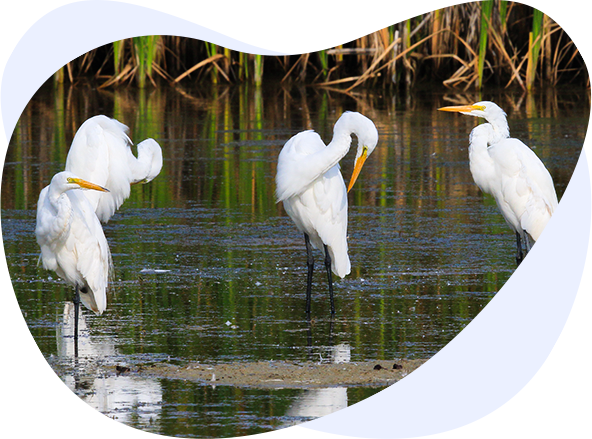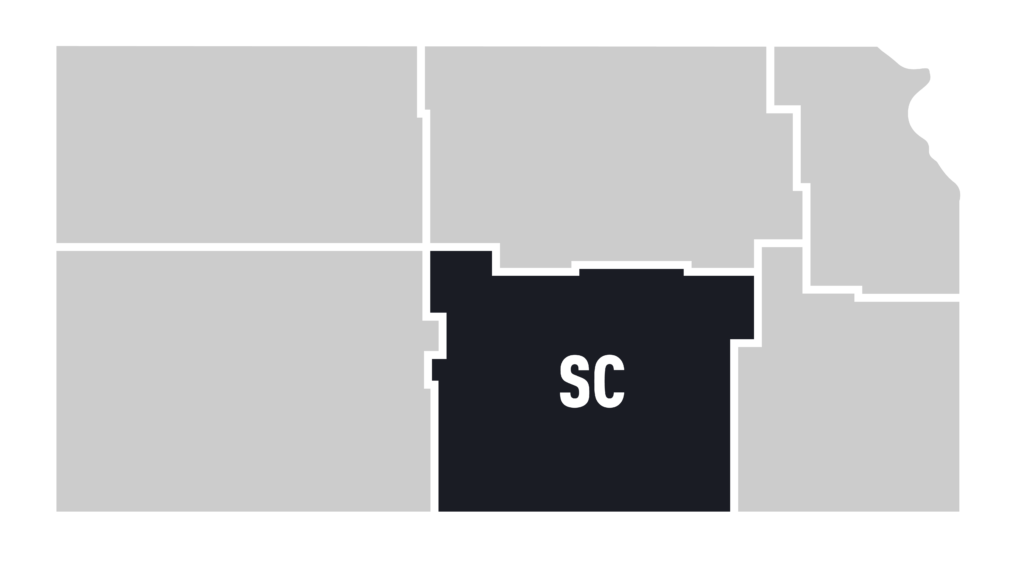 TOWN AND COUNTRY TRAIL
wichita area
Wichita is the largest city in Kansas, but that does not mean it is devoid of great birding opportunities. The Town and Country Trail will lead you to some excellent birding locations in and around Wichita, and to two large reservoirs; one west and one east of the city. A variety of habitats are found along this Trail including wetlands, woodlands, prairies and lakes. You'll also be able to birdwatch along the Arkansas River which bisects the city. This river serves as a corridor for bird movements and in places it provides excellent riparian habitat.  The lakes and wetlands provide opportunities to see waterfowl and shorebirds in spring and fall. The wooded sites can be excellent for migrating warblers.  During summer, the Town and Country Trail has a distinctly southern feel to it.  The more southern Carolina Chickadees replace the Black-capped Chickadees found throughout most of Kansas a few miles south of the city.  Along the rivers, Fish Crows can be heard giving their nasal two-note call.  Large numbers of herons and egrets from local colonies can be seen near water. Graceful Mississippi Kites glide over neighborhoods. And, as you drive the country roads between sites watch the fences and wires for the stately and dapper Scissor-tailed Flycatchers, the state bird of neighboring Oklahoma. Wichita promotes itself as "The Heart of the Country." On the centrally-located Town and Country Trail you will experience the heart of Kansas birding.
Stops On The Town and Country Birding Trail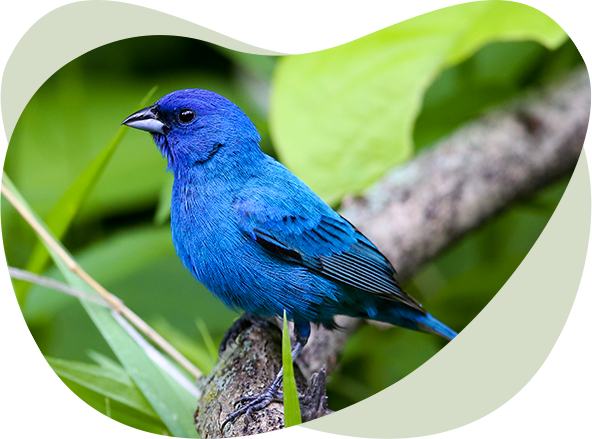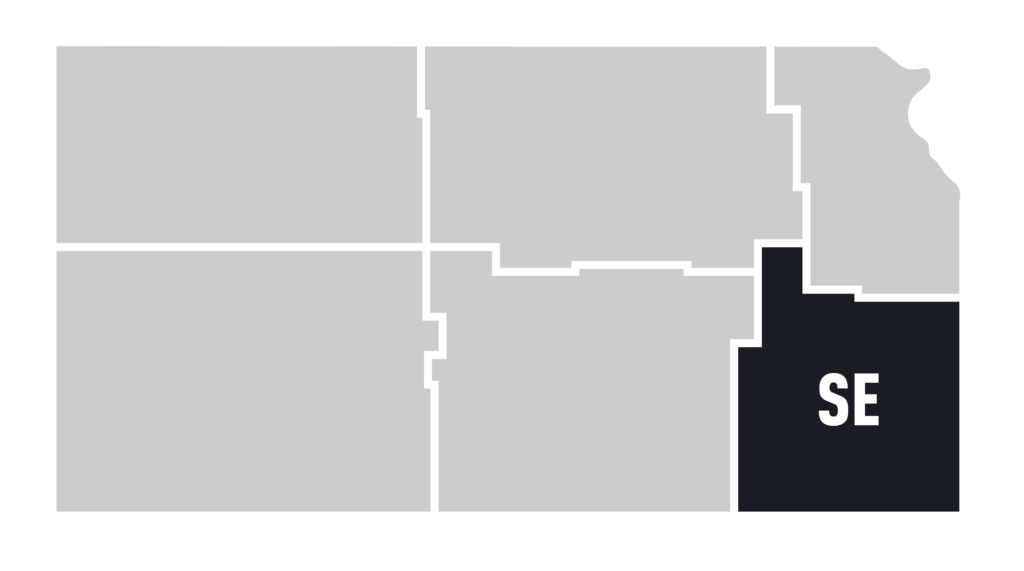 OSAGE CUESTAS TRAIL
southeast kansas
Kansas has a reputation for being a flat, uninteresting landscape, thanks in part to a lack of trees in prairie regions that allow you to see for miles into the distance. But take a drive through the Osage Cuestas of southeast Kansas, and you will find one of the state's abundant and not-so-flat features: hills. This large area that includes 24 counties gets its name from the Native American Ni-u-kon-ska (Wazhazhe) people, called the Osage Nation by Europeans, and the Spanish word for a "cliff" or "hill". Cuestas have a steep slope, or escarpment, on one side and a gentle slope on the other. The Osage Cuestas are rich in sediment deposits of limestone, sandstone and shale as well as a mosaic of tallgrass prairie, oak-hickory forest and savannas, floodplain forest along the streams and crop or range lands.
In true Kansas west-meets-east fashion, birding this region offers a wonderful mix of habitats and species. Nestled inside the Osage Cuestas is the Cross Timbers ecoregion. A stop at Toronto Lake and the Cross Timbers State Park provides an opportunity to walk through an old-growth post oak and blackjack oak forest on the Ancient Oak Trails, a great spot for woodland bird species. Get your shorebird and waterfowl fix at places like the Neosho Wildlife Area or John Redmond Reservoir. Just northwest of John Redmond lies the Flint Hills National Wildlife Refuge where numerous prairie species can be found. The Osage Cuestas Trail is sure to please and might make you think twice about calling Kansas flat!
Stops On The Osage Cuestas Birding Trail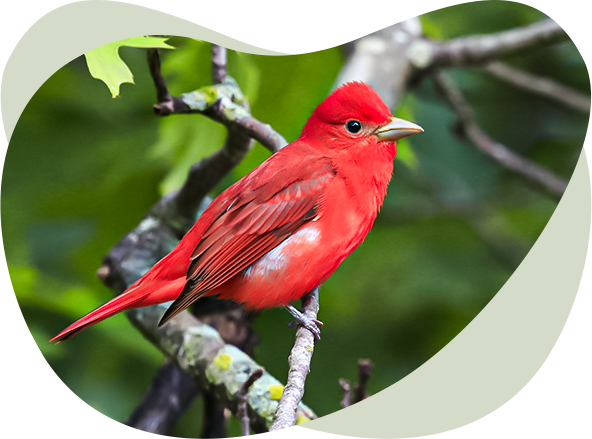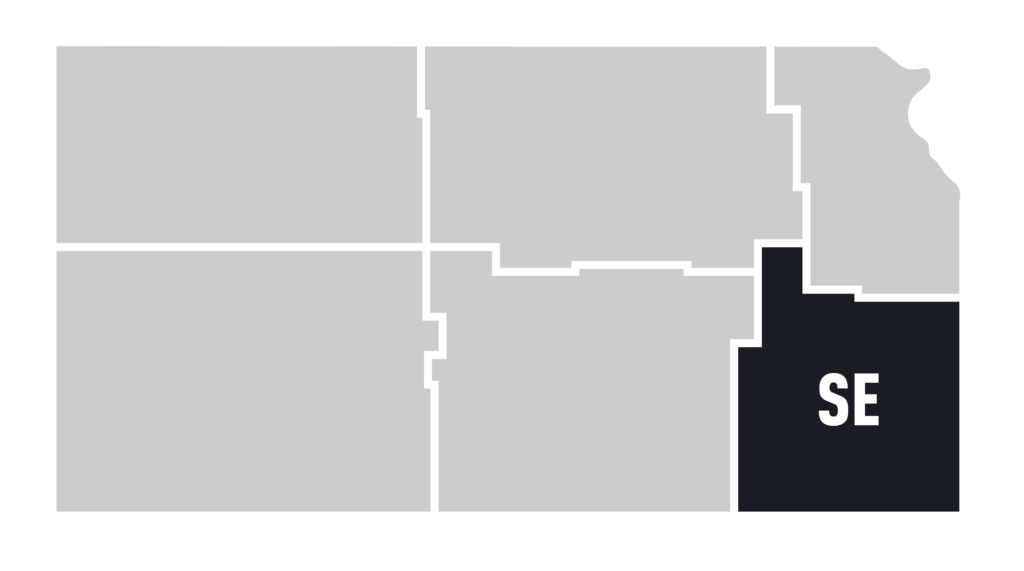 KANSAS WOODLANDS TRAIL
eastern kansas
When people think of Kansas they often think of grass and grain, rather than forests. But Kansas has 2.1 million acres of forest, mostly located in the eastern third of the state. As one travels west, it becomes drier and the trees become scarcer, but here in the east mature forest tracts attract a wonderful assortment of woodland birds. In spring and early summer, these forests resound with the songs of warblers, vireos, and thrushes. Kansas is where the east meets the west, at least when it comes to birds. These woodland birds found along this Kansas Woodlands Birding Trail have a distinctive eastern flavor as they are similar to birds found in Missouri and other eastern states, whereas most of the other Kansas Birding Trails will have a distinct western flair. This trail will guide you to some of the finest forests in Kansas! Interspersed among the woodlands you will also find lakes, marshes, and small patches of prairie along its length. You'll even get to experience a bit of the Ozarks at the southern end of this trail and part of the historic Route 66 that goes through the extreme southeast corner of the state.
Stops On The Kansas Woodlands Birding Trail