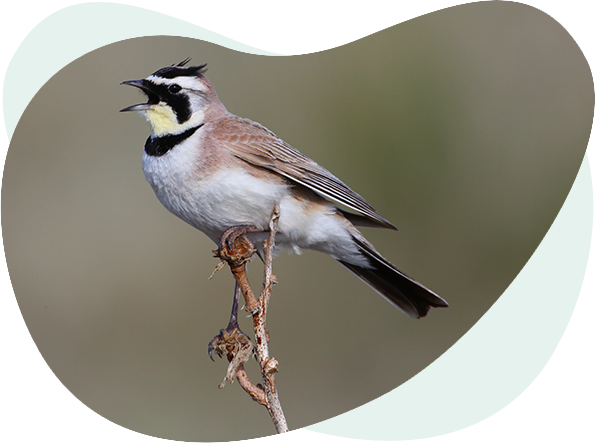 About The Area
As the largest town in northwest Kansas, Hays is the gateway to the High Plains and it serves as the primary entry point to the High Plains Lakes Trail. Hays is a town rich in the history of the Old West. Characters such as Buffalo Bill Cody, Calamity Jane, George Custer, and Wild Bill Hickok all spent time in Hays. Below are three of the most popular birding sites in Hays. The two birding areas on the south side of town are on land directly linked to the era of the Wild West. They are both on land that was once part of the Fort Hays Military Reservation, established to protect people traveling by stagecoach on the Butterfield Overland Dispatch.
Hays is located along I-70 between mile markers 157 and 161.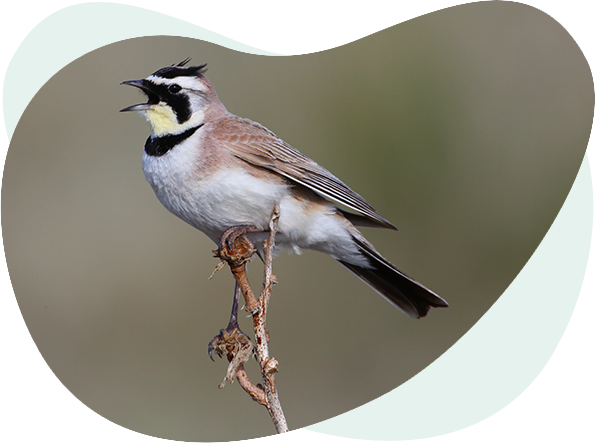 Frontier park
HIGH PLAINS LAKE TRAIL
About The Area

This 89-acre city park features several walking trails including the well-marked Big Creek Nature Trail that winds along the banks of Big Creek. Large shade trees are found throughout the park and the creek has small waterfalls making this a pleasant and picturesque place to birdwatch. This riparian habitat along the creek is one of the best places to see nesting species such as Wood Duck, Belted Kingfisher, Great Crested Flycatcher, Warbling Vireo, and Baltimore Oriole. It is also an excellent location to bird during spring migration. Gnatcatchers, vireos, Swainson's and Hermit Thrushes, and numerous species of warblers, including such seldom seen species as Canada and Blackburnian. Both Black-headed and Rose-breasted Grosbeaks could add color to your birding experience here. Winter birding can produce Yellow-bellied Sapsucker, Black-capped Chickadee, Red and White-breasted Nuthatch, Brown Creeper, Winter Wren and Pine Siskins.
Frontier Park is on the south edge of Hays along the US 183 Bypass. Main Street bisects the park and divides the park into east and west units.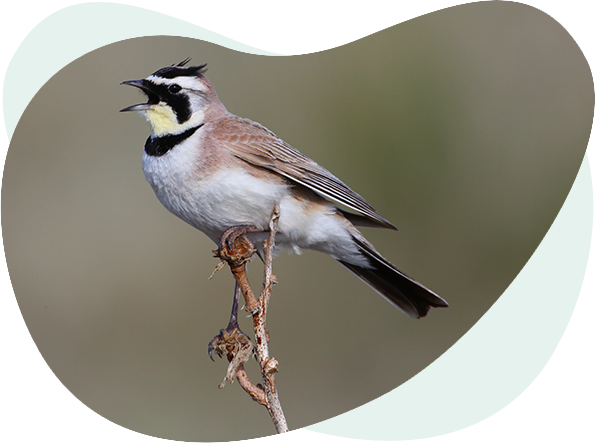 Agriculture Research Center
HIGH PLAINS LAKE TRAIL
About The Area
Although this is a Kansas State University Research Station, birders are welcome to drive or walk around the buildings and grounds to birdwatch among the beautiful landscaping, pine trees, and shrubs. However, be careful not to venture into the research plots and use discretion when birding around the two residences. An impressive tree-lined drive greets birders and may hold interesting birds, especially in winter. The plantings of pines and arborvitae make this a good location to see wintering species such as Yellow-bellied Sapsucker, Red-breasted Nuthatch, Townsend's Solitaire, and Red Crossbills. If you do encounter crossbills pay attention to their calls. At least four distinct types of Red Crossbills have been recorded here. At times the numbers of wintering American Robins and Cedar Waxwings may number in hundreds or occasionally even thousands. On one occasion a Bohemian Waxwing was seen here. As one might expect with the presence of mature pine trees, Pine Warblers have been sighted here during migration.
Located just south of Frontier Park. Just south of the US 183 Bypass at the south end of Main Street.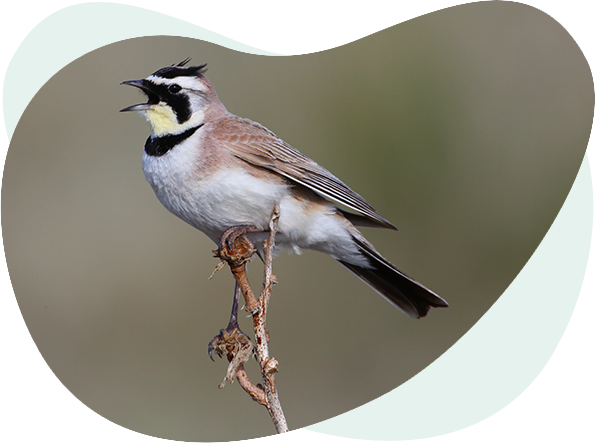 Vineyard Park Nature Area
HIGH PLAINS LAKE TRAIL
About The Area
Vineyard Park is another Hays city park, but it offers a much different birding experience than Frontier Park. Whereas Frontier Park is characterized by large trees and a forested riparian strip along Big Creek, this park features a scenic 1.1-mile nature trail through wetlands, prairies, thickets and smaller scattered trees. Vineyard Park also has a fishing pond which is visited by geese and ducks. The birds seen here reflect those habitat differences with waterfowl and grassland species more likely seen here than at the aforementioned sites.
41st and Vineyard Rd. The entrance is just east of the Home Depot store.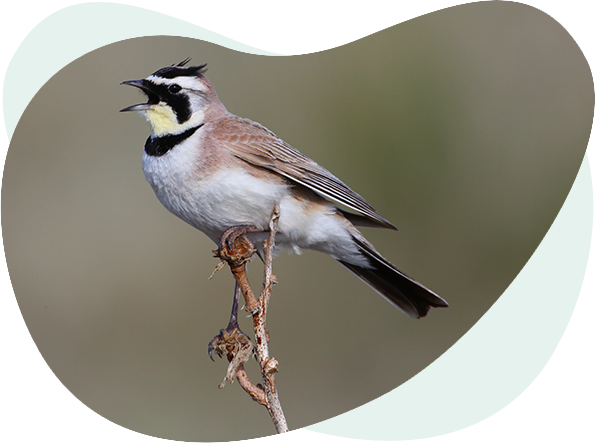 About The Area
Cedar Bluff State Park is divided into two areas along the shorelines of Cedar Bluff Reservoir. The more developed Bluffton Area, on the north shore, provides nearly 350 acres and many facilities for birders. Valid Kansas State Park permits are required to enter this area. The Page Creek Area, on the south shore of the reservoir, is nearly 500 acres in size. It is not as developed but provides good birding with its large shade trees and sandy shorelines. The camping areas in both units provide excellent views for scanning the lake for waterfowl and gulls. The lake level fluctuates greatly here, and with it the size of the lake changes. At full pool it is 11,000 acres, but more recently it has been approximately 3,000 acres. Regardless of size, it still attracts impressive numbers of waterfowl and at times shorebirds. The land around the reservoir is shortgrass prairie, yucca, and sagebrush. Rock Wrens, and in the evenings Poorwills, may be heard calling from the rocky outcrops. Bell's Vireo and Yellow-breasted Chats nest in the thickets. As you drive the roads around the reservoir in winter watch for longspurs including Thick-billed and Chestnut-collared, Mountain Bluebirds, and Northern Shrikes. A good variety of raptors including Golden Eagles, Prairie Falcons and Ferruginous Hawks are possible in fall and winter. Also in winter, check the plantings of pines and cedars for Long-eared, Short-eared, and Barn Owls. On one occasion a Saw-whet Owl was found here as well. Unusual species reported from here in the past include Red-throated and Pacific Loons, Red-necked Grebe, Black-legged Kittiwake, and Bohemian Waxwing. At any season birding can be good at the outlet park below the dam where you will find marsh, prairie and woodlands.
The Park office is 13 miles south of Exit 135 on I-70 on K-147 Highway.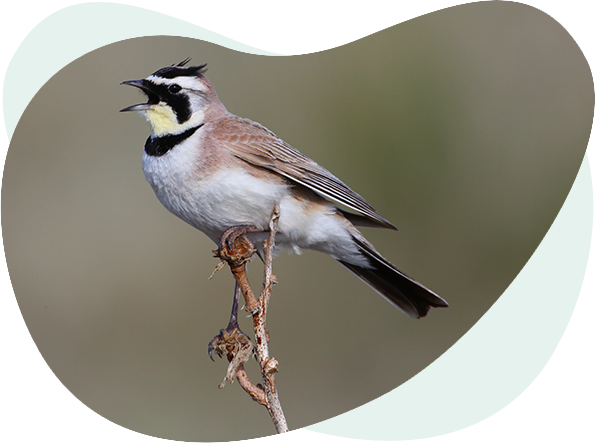 About The Area
The birds of Sebelius Reservoir and Prairie Dog State Park are similar to those found at Webster Lake and State Park with high numbers of waterfowl, gulls and shorebirds seen at both lakes during migration. However, this location has a bit more of a western flair. Birds like Western and Clark's Grebes, Mountain Bluebirds, Townsend's Solitaires, Pine Siskins, and raptors such as Golden Eagle and Prairie Falcon seem to appear more regularly here than at Webster and other lakes to the east. The state park has six campgrounds each offering a nice view of the lake where you can scan for waterfowl, or Bald Eagles or Ospreys perched along the shoreline. A 1.5-mile-long nature trail with interpretive signage provides an opportunity to get out of the car and do some birding on foot. Much of this trail goes through grasslands. Valid Kansas State Park permits are required for entrance to this area. Ring-necked Pheasants and Wild Turkey are especially common in the surrounding area. A pair of Whooping Cranes were observed in the fall of 2021 at the lake.
Prairie Dog State Park is about 3 miles west and 1 mile south of the town of Norton. To get to the park from the east take Highway US 36 west out of Norton, then turn south on Highway K-261.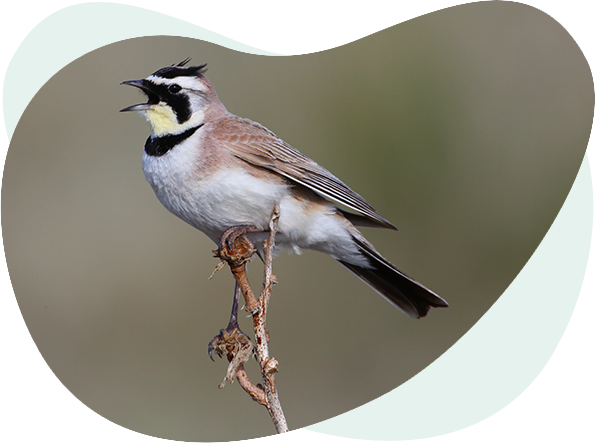 About The Area
This federally managed refuge is almost 11,000 acres and includes a lake (Kirwin Reservoir), riparian woodlands, nearly 4,000 acres of mixed-grass prairie, and about 2,000 acres of cultivated land. The reservoir is approximately 5,000 acres when full, but it rarely has attained that level in recent years due to area drought and irrigation use. A good place to start your visit is at the Visitor Center which has interpretive displays, educational brochures, and maps. From the Visitor Center you can drive the auto tour which will take you around the entire refuge. On the auto tour you will visit all of the major habitat types and get good views of the lake. Tens of thousands of geese can be found here during fall and early winter. Besides waterfowl, this lake is known for its good numbers and high diversity of gulls and shorebirds. Rarities seen here have included Red-throated and Pacific Loons, Neotropic Cormorant and Brown Pelican. Snowy Owls are sometimes seen here during irruption years. In migration Whooping Cranes may be spotted among the flocks of Sandhill Cranes. As you might expect with the intensively managed grasslands and croplands, upland game birds such as quail, pheasant, turkey are common and Greater Prairie Chickens are occasionally seen. A one-half mile surfaced Wildflower Trail loops through the grasslands at Crappie Point on the south side of the Refuge. During summer this trail is not only alive with vibrant blooming wildflowers and multicolored butterflies, but Western Meadowlarks and Dickcissels will also add color to your world here. At Prairie Dog Town, you can enjoy a one-quarter mile trail through a prairie dog ecosystem. Burrowing Owls may be found here in summer. Look for Horned Larks on the ground and kestrels and other raptors hunting over the dog town year-around.
The Refuge Visitor Center is located 6 miles east of the town of Glade or 4 miles west and 1 mile south of the town of Kirwin on K-9 highway. Turn 1 mile south on 700 Road to get to the headquarters.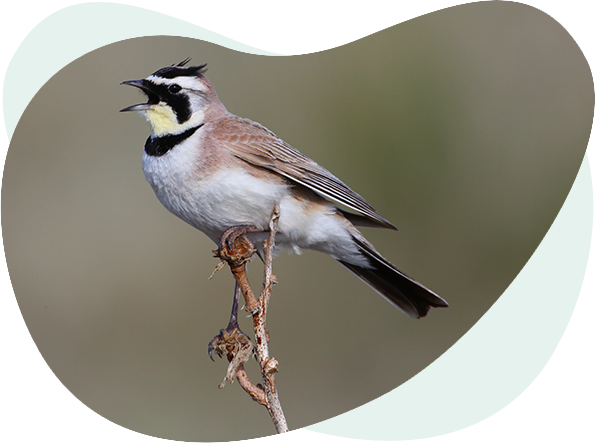 About The Area
The north shore of the 3,780-acre reservoir is dominated by Webster State Park. The state park has six campgrounds on the north shore and one campground on the south shore. These campgrounds offer excellent vantage points for scanning the water for gulls and waterfowl. Valid Kansas State Park entrance permits are required year-round for this area. A good variety of gulls have been reported from here, including Glaucous, Iceland, Lesser Black-backed, Little, Laughing, and California, along with the more common gull species. Shorebirds can be abundant during migration when mudflats are available. At least 32 species of shorebirds have been identified here. Away from the lake, the wooded areas attract good numbers of migrating songbirds. The south shore offers nice riparian areas to check for songbirds. Also, depending on water levels, the south shore often produces the greatest numbers of shorebirds. Other species to look for in the area include Greater Prairie Chicken, Black-billed Magpie and an abundance of fall and winter sparrows.
The reservoir is located 7 miles west of Stockton just south of US-24 between Roads 11 and 9. Access to the south shore is from N Rd. This is a dirt road but is often in good condition except after rain or snow.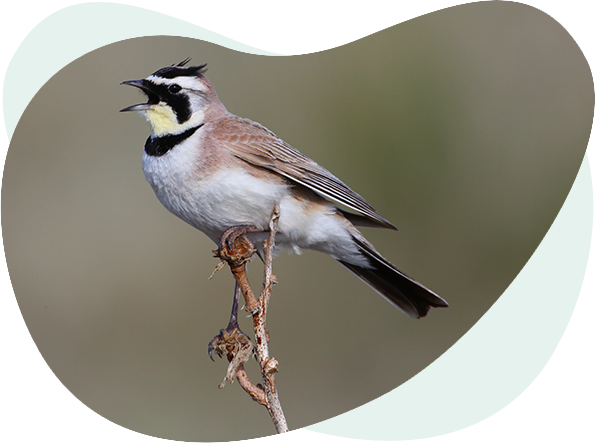 About The Area
This small 64-acre lake can be surprisingly productive for such a small body of water. In fact, over 200 species have been recorded here. During migration, waterfowl can show up in good numbers. Black-bellied Whistling Duck, Greater Scaup and White-winged Scoter are some of the uncommon ducks which have been reported here. Depending on the water level and presence of mud flats shorebirds may be present. Almost 30 species of shorebirds have been seen here, including both Hudsonian and Marbled Godwits, Long-billed and Short-billed Dowitchers and Wilson's and Red-necked Phalaropes. Both Loggerhead and Northern Shrikes have occurred here too. In the evenings you might hear the screech-owls that sometimes nest here.
This lake is located west of US 183, 2.5 miles south and 2 miles west of Stockton. Three access roads are located off of 16 Terrace between K and N Terraces. However, two of the three access roads are closed from November to March. Although these access points are on the east side of the lake, there is a road that travels below the dam and spillway to the western shore.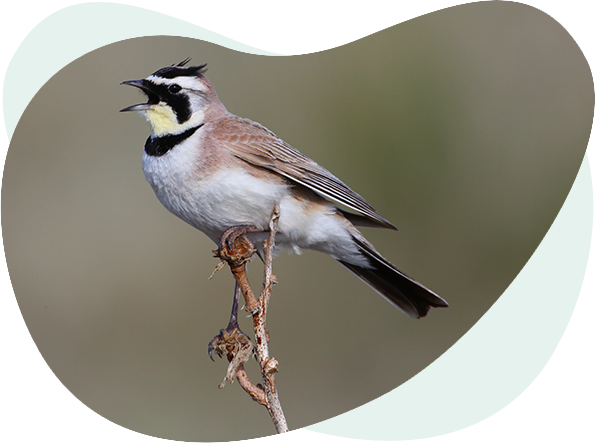 About The Area
A road on each side of the lake makes scanning the entire lake easy. With little cover for birds to hide you can immediately tell if waterfowl are present. This lake often attracts good numbers of both diving and dabbling ducks in migration. Check the small marshy area just to the north of the lake for any marsh birds. In spring and fall if mudflats are present check for shorebirds. At least 17 species of shorebirds have been seen here over the years. For songbirds check the walking path to the east of the lake which winds its way through a grove of trees.
This lake is located 1 mile south and 1 mile west of the town of Plainville. Access can be obtained from X or Y Roads between 16 and 17 Roads.