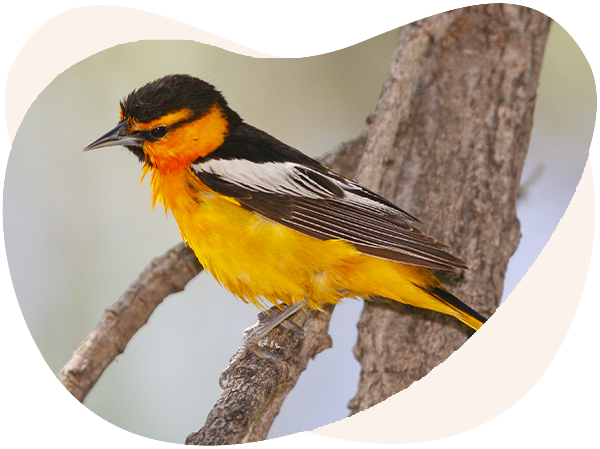 About The Area
The wooded neighborhoods and parks of Oakley provides an island of habitat on the High Plains. Oakley is located along the Western Vistas Historic Byway. You might want to begin your trip on the Habitat Islands Birding Trail by stopping at the Buffalo Bill Cultural and Visitor Center. You will find a giftshop featuring local products, interpretive exhibits and an impressive larger than life sculpture of Buffalo Bill Cody. You can learn about the fascinating landscape and rich history of the area in which you will be birding. During migration you might want to check Bertrand Park located just north of the Fick Fossil Museum. The line of trees bordering the park sometimes hold migrants. As you drive south out of town on US 83, watch for a good variety of raptors on the poles and in winter enormous flocks of Horned Larks and Lapland Longspurs flushing from the crop fields.
Oakley is located at Exits 70 and 76 on I-70 and at the intersection of US 40 and US 83 highways.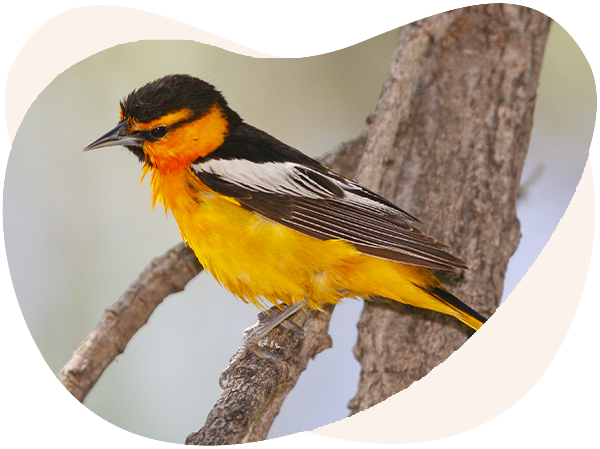 Habitat Island trail
About The Area
Kansas's newest state park is 332-acres and includes 220 acres of spectacular chalk formations. These chalk badlands provide habitat for Ferruginous Hawks, Cliff Swallows, Say's Phoebe and Rock Wrens.  Two hiking trails provide opportunities to see the rock formations from various viewpoints and as you walk through the surrounding prairie you may encounter Swainson's Hawks, Lark, Grasshopper and Cassin's Sparrows in summer.  In migration, Savannah, Vesper and other sparrows pass through this area. If you can take your eyes off of the rock formations, you might see American Kestrels, Northern Harriers, Rough-legged Hawks and Red-tailed Hawks hunting over the grasslands in fall and winter.
From Oakley, drive approximately 22 miles south on U.S. 83 Highway or from Scott City drive 21 miles north on US 83. Turn west onto Gold Road. Drive 3.5 miles to County Road 400. Turn north on County Road 400. Drive 1 mile to park entrance.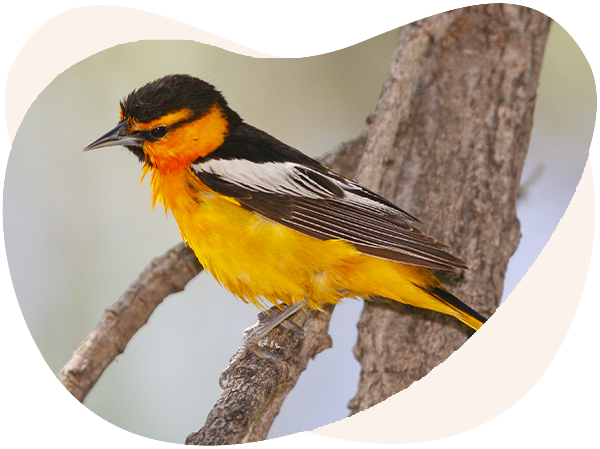 About The Area
Whereas Little Jerusalem is Kansas's newest state park, Historic Lake Scott State Park is one of the oldest state parks in Kansas. This park is truly one of the best birding spots in all of western Kansas! The area attracts many interesting birds in all seasons and the stunning scenery makes the birding experience even more delightful. In fact, this park was listed by National Geographic as one of the country's 50 must-see state parks. A road goes entirely around the 100-acre lake. Many birders drive the road slowly, stopping to bird at the various roadside parking areas and campgrounds. During nesting season, Bells' Vireos, Yellow-breasted Chats, Rock Wrens, Common Poorwills, and even an occasional Rufous-capped Sparrow may be found on the brushy and rocky slopes. Black-headed Grosbeaks and Bullock's Orioles nest in the more wooded areas. In 2021, a pair of Western Wood-Pewees were discovered to be nesting here.
The beach area and campgrounds provide excellent opportunities for scanning the lake for waterfowl which can be abundant during spring and fall. In winter you could see Townsend's Solitaires perched high in the trees. Look through the flocks of Cedar Waxwings for a possible Bohemian Waxwing and if you have time, search the cedar trees for a variety of owls, sparrows and finches.
Two of the most astounding and unlikely bird sightings to ever occur in Kansas happened here. In 2015 a Piratic Flycatcher, a species from Central and South America, with only a few U.S. records was discovered here. Then in 2020, a Yellow-eyed Junco, normally found only as close as the mountains of southeast Arizona was found here and stayed for several weeks. Other rare birds seen at Scott Lake over the years include Eurasian Wigeon, Wood Stork, and Pacific Wren.
Go 35 miles south of Oakley (or 10 miles north of Scott City) to the intersection of US 83 and K-95 highways. Go west on K-95 to the park entrance.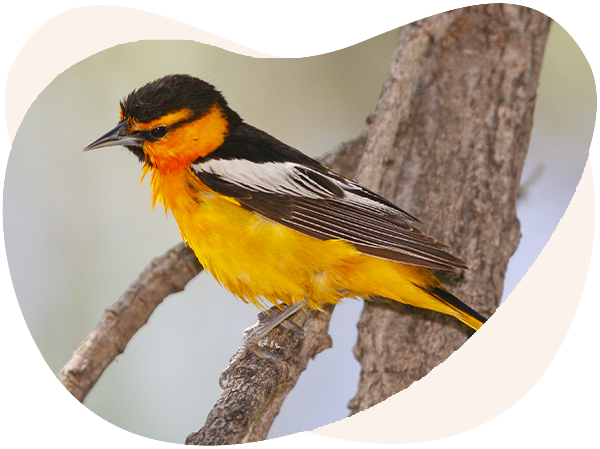 Habitat Island trail
About The Area
If you enjoy birding at locations with historical significance, you will want to stop at the site of the Battle of Punished Woman's Fork. It is the place where the last Native American battle in Kansas was fought. During the conflict the Commanding Officer of the U.S. Cavalry was killed; the last officer killed in military action in Kansas. A monument overlooks Battle Canyon, a cave, and the bluffs where the battle ensued. The birds found here are much like the birds of Lake Scott, with waterfowl sometimes present on the pond and rocky cliffs harboring Rock Wrens, Say's Phoebes and nesting Rough-winged Swallows. A good assortment of sparrows and raptors are often seen here. On one occasion in 2020 more than 400 Wild Turkeys were counted at the entrance to this scenic and historic site!

This site is about one mile south of Historic Lake Scott State Park off of Hwy 95.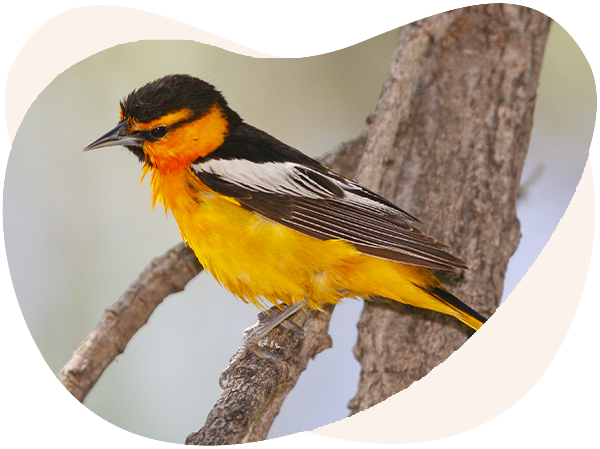 About The Area
Scott City is another habitat island in a sea of cropland. The best place to see birds taking advantage of this habitat island community is at Palmer Park on the southeast side of town. You can access it by going east on Alice St. from US 83. Palmer Park has paved trails, a pond and some wooded areas. It is worth a quick stop during migration seasons. The pond often has various dabbling ducks and a nice assortment of warblers have been seen using this "island," particularly in April-May.
Scott City is located at the intersection of US 83 and K-96 highways, about 45 miles south of Oakley and 35 miles north of Garden City.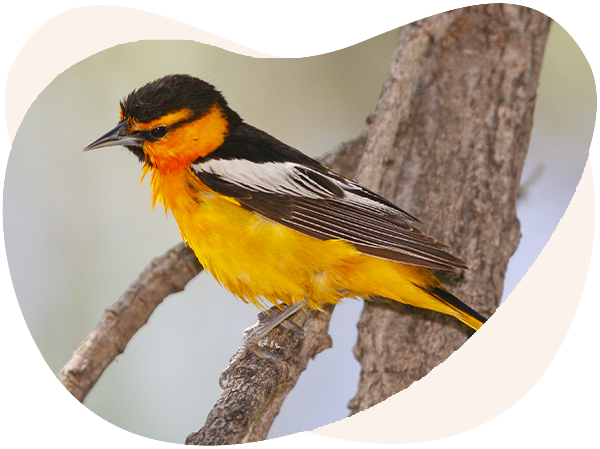 About The Area
Garden City is largest of the Habitat Islands communities on this Birding Trail. Its parks, gardens, cemeteries, and wooded neighborhoods host many species in migration and winter. Eastern vireos and warblers show up and mingle with birds that have come down from the Rocky Mountains or up from the desert southwest. Unexpected western birds that have shown up on this urban habitat island have included Phainopepla, Anna's and Broad-billed Hummingbirds, Williamson's Sapsucker, and Western Bluebird. Unusual Eastern species include Blue-winged and Golden-winged Warblers, Worm-eating Warbler and Swainson's Warbler. Perhaps one of the most unexpected eastern birds seen in Garden City has been a Brown-headed Nuthatch which frequented birdfeeders in a Garden City neighborhood in fall 2021.
Garden City is at the intersection of US 83 and US 50/400.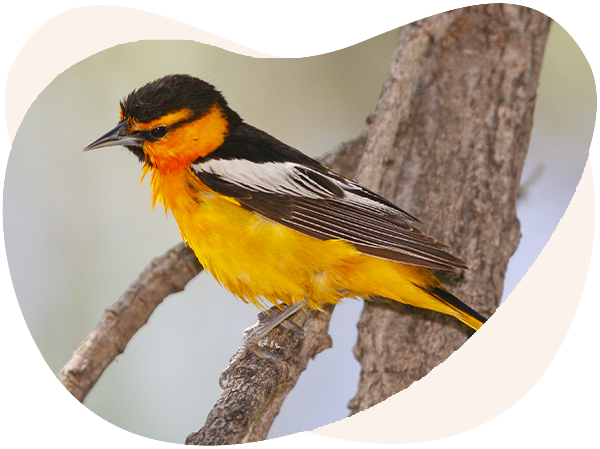 About The Area
Finnup Park is a 110-acre park with more than 50 acres devoted to the Lee Richardson Zoo. Entrance to the park and zoo are free for those who are walking. The trails are lined with beautiful trees and shrubs and a pond often holds several species of ducks and geese. In winter Mountain Chickadees, Woodhouse's Scrub-Jays, and Townsend's Solitaires are sometime seen. In summer you will find Mississippi Kites, White-winged Doves, Western Kingbirds, Northern Mockingbirds, and Baltimore Orioles nesting in the park. During spring and fall almost anything is possible as noted above. Unusual species from this location include Wood Stork, Barred Owl, Pine Grosbeak and Painted Redstart.
Located on E. Finnup Drive along South Main Street.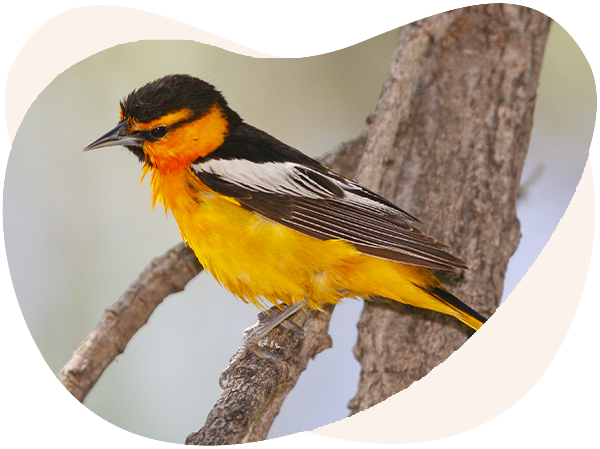 About The Area
The Sandsage Bison Range and Wildlife Area is a 3,760-acre area providing birders with an opportunity to experience the sandsage prairie ecosystem of southwest Kansas. Not only is the area noted for its unique plant community and interesting birds, but it is also home to the oldest publicly owned bison herd in Kansas. The refuge was established in 1916 when President Woodrow Wilson granted over 3,000 acres of the Kansas National Forest holdings to the State of Kansas for use as a game preserve. Although there is a pond that attracts ducks and geese, as you might expect, this area is primarily home to grassland species. Interesting prairie birds seen here have included Lesser Prairie-chicken, Northern Bobwhite and Scaled Quail. Other birds of note have included Lesser Goldfinch, Woodhouse's Scrub Jay and Rufous-crowned Sparrow. In summer you might see a Swainson's Hawk soaring overhead. In winter Northern Harriers fly low over the grassland. In migration and winter many as 18 species of sparrows and finches feed on the seeds of the grasses and other prairie plants.
This site is located about a half mile south of Garden City on the west side of Business Highway 83.