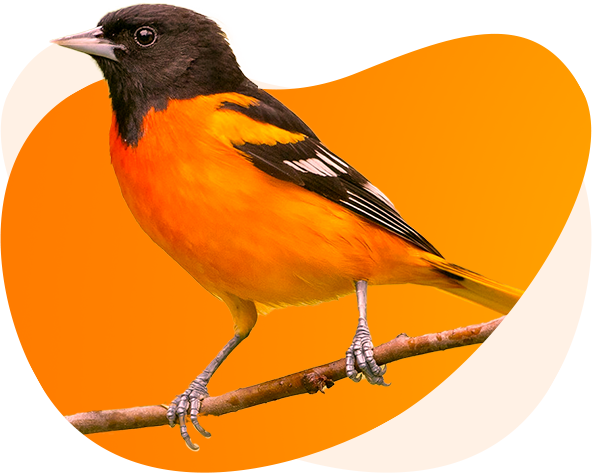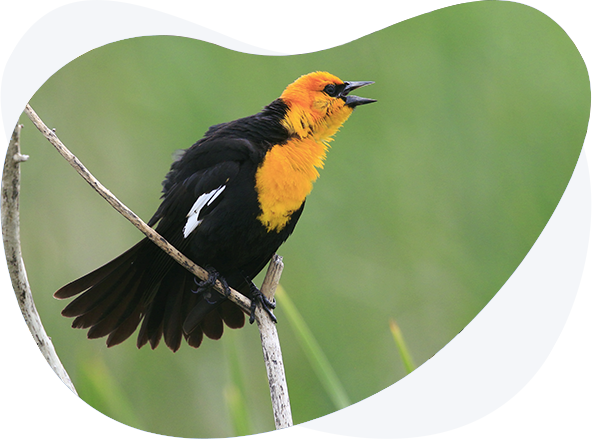 WETLAND WONDERS TRAIL
About The Area
The entire Cheyenne Bottoms basin is the largest inland marsh in the United States and is a Globally Important Bird Area as designated by the National Audubon Society. More than 350 species of birds have been recorded in the basin, including nearly 40 species of waterfowl and over 40 species of shorebirds. There is no better place to start a visit here than at the Kansas Wetlands Education Center (KWEC). You will find interesting exhibits and information about the birds of the Bottoms. Helpful staff at KWEC can also tell you about recent bird sightings and where the best habitat might be considering the ever-changing water levels throughout the 20,000-acre wildlife area. These wetlands host hundreds of thousands waterfowl each year and it is a critical stop for a large percentage of North America's shorebirds during their migration. It is not only a world class birding destination, but it is important to note that it is a popular waterfowl hunting site in the fall. When you plan your visit, if you're coming between September and March, please check to see what hunting seasons are open and be aware that this area is one of the most popular in the state for this pursuit. You will notice the concrete hunting blinds scattered throughout the area. These blinds are worth checking as they are used as perches by cormorants and raptors, including Snowy Owls in some winters. In winter the entire basin hosts large numbers of Bald Eagles, especially easy to see when there is ice on the pools and waterfowl numbers are high. The long list of rare birds found here include such diverse species as Long-billed Murrelet, Black Skimmer, Long-tailed Jaeger, Black-headed and Little Gulls, Ruff, and Gyrfalcon.
Most birders enter the Cheyenne Bottoms Wildlife Area from K-156 across from the KWEC and drive the dike road through the refuge in a counter-clockwise direction; stopping whenever birds are encountered. Shortly after entering the area, you will see an observation tower which will give you the big-picture view of the various wetland units. Water levels here change drastically, often week by week or even day by day, so it is impossible to predict where you will find mudflats or deep water. However by driving the entire dike system you should encounter a variety of vegetation types and areas of open water. Vault toilets are located along the dike near Pool 3A as well as at the headquarters located at the west exit from the property.
As you travel to the northeast, the Pool 4B area on the right can be great for viewing waterfowl and shorebirds and often hosts nesting cormorants, American Avocets and Black-necked Stilts. The large Pool 1A on the left is one of the Pool 1 three-unit complex that is used for deep water storage. These larger pools can have tremendous numbers of waterfowl, pelicans, gulls and shorebirds using them, depending on season and water levels. Pool 4A stretches for a mile to the east, split from Pool 3B by the Claflin dike. This dike road is passable in normal conditions and can be a great drive to see lots of birds. The dike that splits Pool 3A from Pool 2 (Redwing Dike) is also a productive drive, with great habitat on both sides of the road. Pool 2, on the right side of the main dike, has hosted many breeding species including Western Grebes, Common Gallinule, Least and American Bitterns, night herons, egrets and many more species.
The main dike will eventually turn west, and the inlet canal will be on your left. At the west end of this stretch of the dike, you will find the area headquarters. From May – September large numbers of swallows typically congregate on the wires near the headquarters and around water control structures. Cliff Swallows nest under bridges throughout the Bottoms but are particularly noticeable here in large numbers. Scan all swallow flocks carefully for rare species such as Cave Swallow.
To continue the Wetland Wonders Trail to the Nature Conservancy's Cheyenne Bottoms Preserve you will turn right (north) at the Kansas Wildlife & Parks Wildlife Area office building. However before heading north, you might want to check the stand of trees about a half mile ahead to the west of that intersection. This is a primitive camping area along the inlet canal. Bell's Vireos have nested along the road and this area can be good for migrating songbirds.
From Great Bend travel 3.5 miles east on US-56. Then go northeast 6.5 miles on K-156.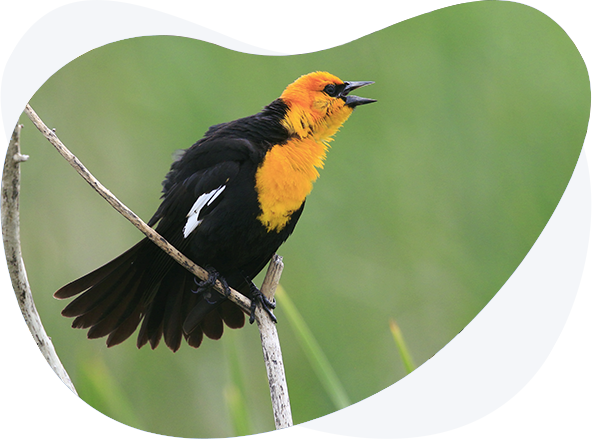 WETLAND WONDERS TRAIL
About The Area
This nearly 8,000-acre preserve is a network of land parcels managed for wetland and grassland species by the Kansas Chapter of the Nature Conservancy. It is contiguous with the state-owned wildlife area and so the birds found here are similar with large numbers of waterfowl, herons, and shorebirds possible. However, this area has more grassland and wet meadow habitat. Upland Sandpipers, Grasshopper and Lark Sparrows are common in summer, whereas Vesper and Savannah Sparrows can be abundant during migration. Watch for Loggerhead Shrikes perched on the fences or tree tops. In winter check any shrike to see if it is a Northern Shrike.  During early spring and mid-late fall Sandhill Cranes use the preserve. With luck you might be able to pick out a Whooping Crane and this is part of the Cheyenne Bottoms basin that Greater Prairie-Chickens have been observed with some regularity. This preserve is a particularly good spot to see a variety of raptors during migration and in the winter, including Northern Harrier, many large hawk species, Bald Eagles and Short-eared Owls. Rare species seen here over the years include Little Stint and White Ibis. Stretches of dirt roads through this area may be impassable following wet weather. Never attempt crossing a portion of road that is under water.
Head north from Cheyenne Bottoms Headquarters for 1 mile and the preserve will be on both sides of the road. If you go an additional 3 miles and turn to the right, you enter the heart of the preserve. You also can access the preserve from K-4 four miles west of Redwing. Turn south. One mile after entering the preserve, turn on a road to the east that winds through the main portion of the property.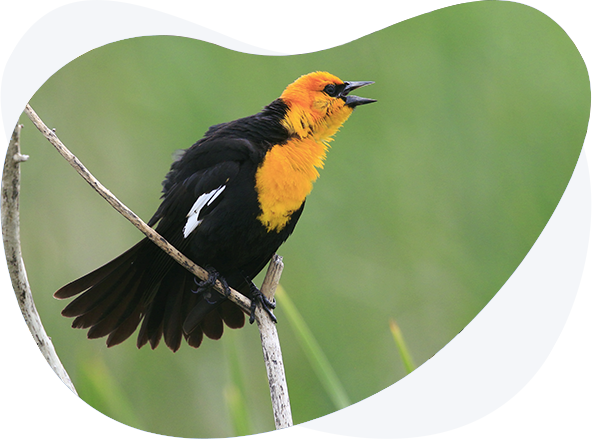 About The Area
Quivira NWR features wetlands where the salinity is high enough to support salt-tolerant plants. It also has areas of sand prairie that support a mix of plants characteristic of both short- and tall-grass communities. This unique combination of salt marsh and grass-covered sand dunes gives large areas of this 22,135-acre refuge a distinctly coastal feeling. Snowy Plovers foraging on beach-like flats, Least Terns hovering overhead, strutting Black-necked Stilts with their hot pink legs, bronzy iridescent White-faced Ibis, and the occasional Mottled Duck add to the illusion of being on the Gulf Coast. Like Cheyenne Bottoms, Quivira attracts huge numbers of shorebirds and waterfowl. But here the habitats are more varied and the birds generally more visible. Quivira National Wildlife Refuge areas are open from 1.5 hours before sunrise and close 1.5 hours after sunset.
The Wetland Wonders Trail enters the south end of the refuge from the west on NE 70th St. with the first stop being the Visitor Center. From there you will drive north on refuge roads. Some of the best birding is possible while driving the more than 40 miles of roads. Travel slowly to see roadside birds and pause at any creek crossing or stand of trees to look and listen as you drive between specific birding destinations. If time is short, you may wish to enter the refuge farther north on 140th and focus on the Wildlife Drive and Marsh Road (NE 170th St.) areas – the two most popular birding locations. Astonishing vagrant birds seen at Quivira include, Red-necked Stint, Fulvous Whistling Duck, Wood Stork, Reddish Egret, Gull-billed Tern and Painted Redstart.
Below are recommended birding sites on the refuge and their eBird Hotspots list.
From Great Bend, drive south towards St. John on US 281, turning east on NE 70th Street. Proceed 14 miles to NE 170th Avenue, then turn north 1 1/4 miles to the Refuge Headquarters. If only birding the northern portion of the refuge, turn east on NE 140th and drive 14 miles into the refuge.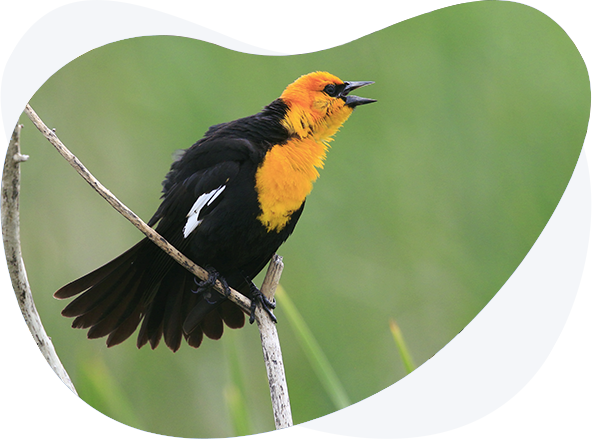 Visitor Center Area
QUIVIRA NATIONAL WILDLIFE REFUGE / WETLAND WONDERS TRAIL
About The Area
The Visitor Center has maps, brochures, and interpretive displays about Refuge habitats, wildlife, and management practices. The Kids' Fishing Pond is within walking distance of the Visitor Center and features a small pond and foot trail that connects to the Observation Tower. Check the pond, the cottonwoods, and a brushy slough to the west beyond the shooting range. The "Tree Tunnel" is along the Refuge's south boundary, west of the entrance road. It consists of a nice stretch of trees and brush. This can be a good place to check for migrant and breeding passerines during spring and fall and resident species such as Wild Turkey, Northern Bobwhite and several woodpecker species. Please note that all land on the south side of the road is private property. A similar drive can be done by going to the east along the south refuge boundary, with large trees and grass habitat along the route. These roads are passable in normal conditions but can have water over them in spots or have deep sand that can be difficult to navigate in exceptionally dry conditions.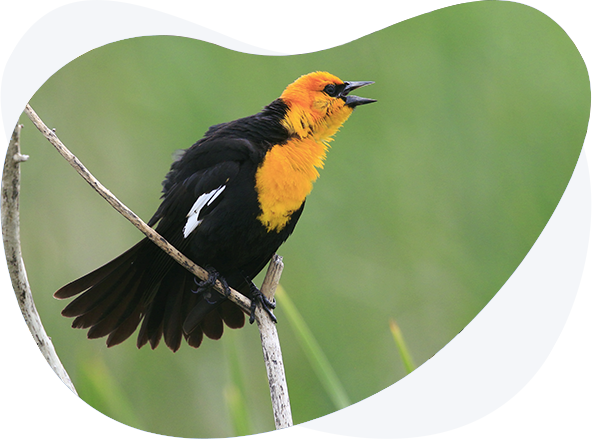 Little Salt Marsh Observation Tower
QUIVIRA NATIONAL WILDLIFE REFUGE / WETLAND WONDERS TRAIL
About The Area
This elevated, fully accessible platform provides a view for scanning the Little Salt Marsh, one of the largest wetlands at Quivira. At times in spring and fall, thousands of waterfowl and large numbers of White Pelicans and Sandhill Cranes congregate here. Whooping Cranes sometimes can be seen just to the west of the tower. A photo blind is reached via a short trail to the west, and it can be a good place to view shorebirds. A trail leads south to the Kids' Fishing Pond which might be worth a quick look. Early morning and late afternoon are great times to check out this part of the refuge.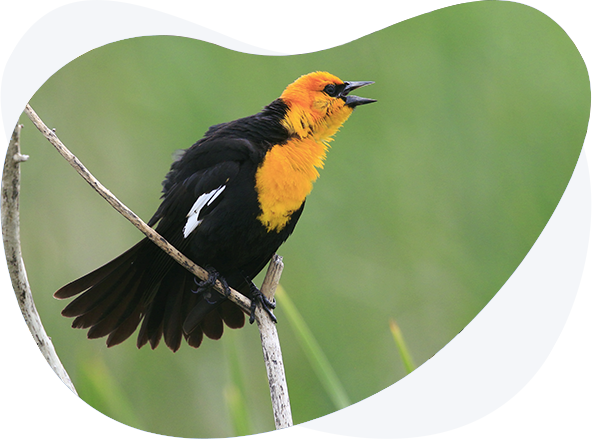 Migrants Mile Trail
QUIVIRA NATIONAL WILDLIFE REFUGE / WETLAND WONDERS TRAIL
About The Area
Look for a parking area for the Migrants Mile Trail in the center of the refuge. This trail allows the visitor to see a variety of habitats: woodland, prairie, and marsh. There are two loops on this trail: the inner loop is roughly 3/4-mile in length; the outer loop will add about 1/2 mile to the hike. Along the trail is a 335-foot boardwalk over a marsh. Park Smith Lake on the east side of the road can be good for diving ducks. Just north of the Migrants Mile Trail is a restroom facility and tornado shelter. Aside from the Visitor Center and Kids' Fishing Pond to the south, these are the only restrooms at the Refuge.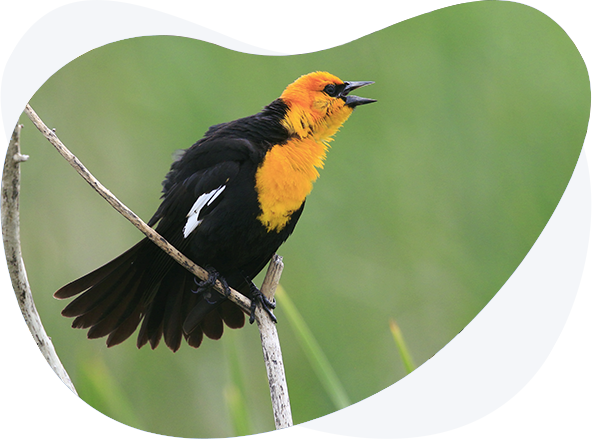 Wildlife Drive
QUIVIRA NATIONAL WILDLIFE REFUGE / WETLAND WONDERS TRAIL
About The Area
This 5-mile drive through the marsh is Quivira's most exciting bird-viewing area and one of the best locations in the state for shorebird, waterfowl and crane observation. Some shorebirds, ibis, and herons are present from spring through fall, with a few birds lingering through the winter. Scan any of the shallow water areas on both sides of the road. Travel slowly, keep the noise level down, be observant, and enjoy the wildlife. Many of the birds are accustomed to vehicles and will often be less disturbed if you remain in your car. Part way around the loop is the Big Salt Marsh Overlook. It is often an excellent location for viewing enormous numbers of waterfowl during spring and fall. During this same period, tens of thousands of Sandhill Cranes as well as a few Whooping Cranes may be seen here. Even in the coldest part of winter, there is often a small area of open water visible from this spot. This refuge is open 1.5 hours before sunrise to 1.5 hours after sunset. There are occasions where areas on the refuge may be closed for the protection of wildlife and/or the public, such as when Whooping Cranes roost next to the road and there is an increased likelihood of disturbance or for prescribed burning activities.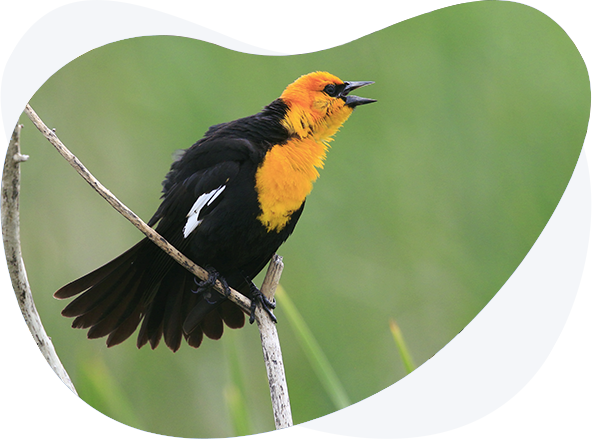 Marsh Road (NE 170th St.)
QUIVIRA NATIONAL WILDLIFE REFUGE / WETLAND WONDERS TRAIL
About The Area
The open flats north and south of Marsh Road/NE 170th (the east-west road along the north side of the Wildlife Drive) offer not only the best shorebird viewing at Quivira, but possibly the best shorebird viewing in the entire state when habitat is favorable. This area is also home to nesting Least Terns, Snowy Plovers, American Avocets, Black-necked Stilts and Wilson's Phalaropes. This is a county public road, so not subject to refuge hours closure times.
West of the Wildlife Drive on Marsh Road/170th you will encounter wetlands which are home to American Bitterns and Soras, Virginia Rails and occasionally Black Rails. As you continue west you will come to a road going north (NE 105th Ave.). The roadside at this junction, and north about a half mile, is one of the area's best places to view migrant warblers, flycatchers, and sparrows. During summer, Bell's Vireos, Gray Catbirds, Indigo Buntings and Yellow Warblers are among the birds that can be found nesting along the road. Other species that have been observed in recent years along that road include Barred Owl, Pileated Woodpecker and Painted Bunting.
The expansive meadows to the northeast and south of this intersection are well-known as locations to look for occasional Bobolink and rails. Please respect private property south and west of the intersection.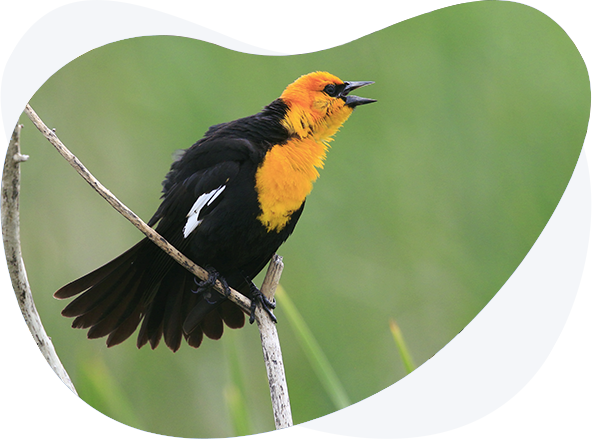 WETLAND WONDERS TRAIL
About The Area
Located along the Wetland Wonders Trail between Cheyenne Bottoms and Quivira NWR is the town of Ellinwood. During summer Mississippi Kites gracefully soar overhead and during migration waterfowl and cranes can be seen flying overhead moving to or from Quivira and Cheyenne Bottoms. Migrant songbirds sometimes can be found at the cemetery or in the neighborhoods. However, the most interesting birding location is Wolf Pond Park. Located along US 56, this small park has a pond where in recent years Black-bellied Whistling Ducks have been nesting. This colorful duck species nests in boxes placed in the pond. Geese and dabbling ducks usually frequent this small city pond, especially in fall and winter.
Wolf Pond Park is located on the south side of US 56 on the west edge of Ellinwood.